This Egg & Sausage Breakfast Casserole is perfect for Christmas morning or any other morning! Loaded with chorizo sausage and veggies, this casserole can be easily prepared a day in advance. I love homemade Christmas brunch but not so much spending all morning in the kitchen ? You just take the casserole out of the fridge, pop it in the oven and here you have a quick, easy and so delicious breakfast!
I love how versatile this egg & sausage breakfast casserole is! I have used Chorizo sausage, tomatoes, mushrooms and of course plenty of cheese. You can used any kind of cooked sausage or bacon and the veggies are up to you too: bell pepper, onions, spinach, kale…you name it!
The recipe is really easy, you just add cubed bread to the dish, cook a bit the sausage and add it to the casserole together with chopped veggies and finish assembling the casserole adding the mixture of eggs, milk and cheese. You just pop it in your fridge, and leave it there until you're ready to bake it.
Breakfast Casserole Recipe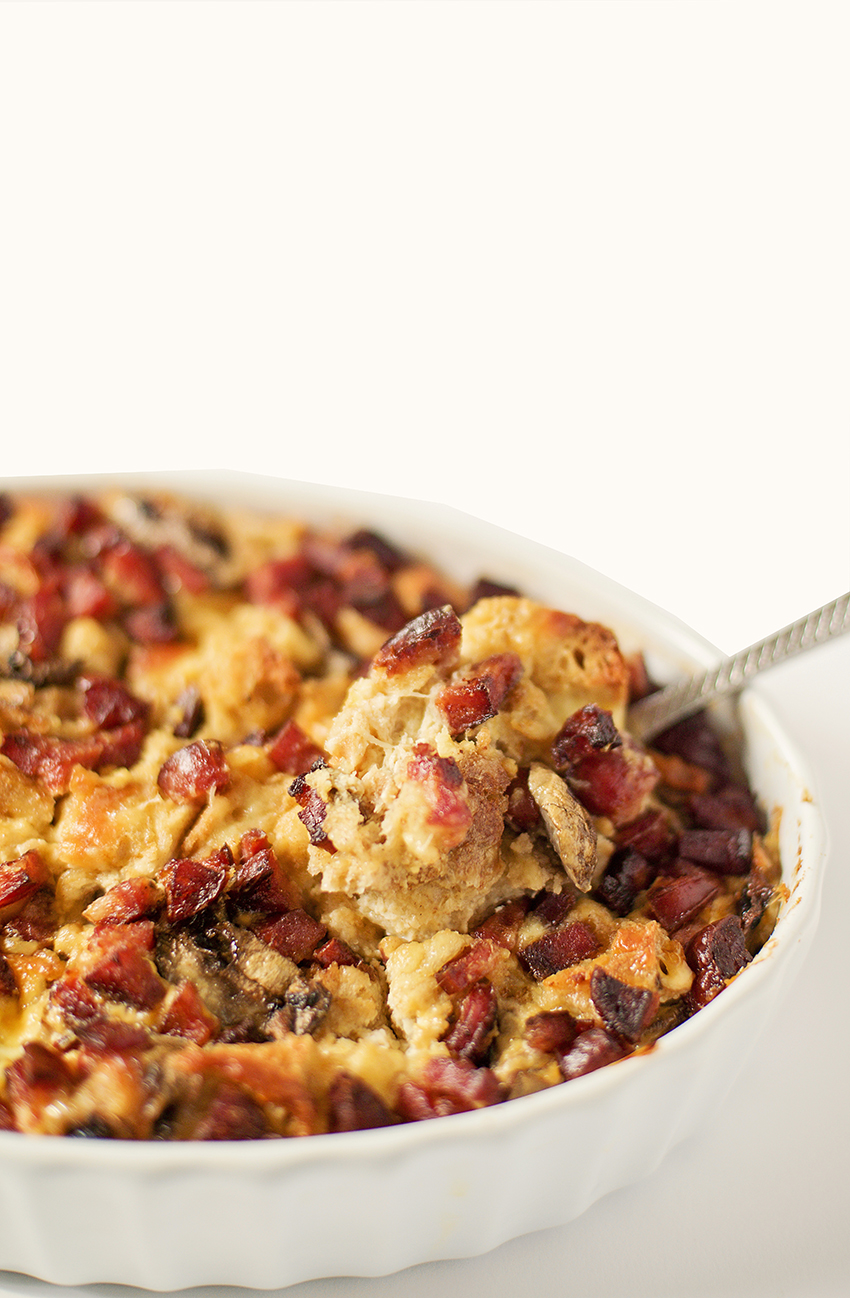 Egg & Sausage Breakfast Casserole
Ingredients:
2 Chorizo sausage links/ or any type of sausage
10 eggs, lightly beaten
4 cups milk
4 cups bread, cut in 1 inch cubes
2 cups shredded sharp cheddar cheese
½ cup grated Parmesan cheese
1/2 cup sliced mushrooms
1/2 cup chopped tomatoes
salt and pepper
Method:
Cut the chorizo sausages in slices and cook them for a couple of minutes in a pan over medium heat. When lightly browned, remove from pan to a cutting board and chop them roughly. Cut the bread into 1 inch cubes and add them to the pan to absorb some of the juices left from cooking the sausage.
Prepare a 9×13 inch baking pan and butter it well. Add cubed bread and distribute evenly in the pan. Sprinkle 2/3 of the cheddar cheese and Parmesan over, add sliced mushrooms and tomatoes over and top with cooked Chorizo sausage.
In a large bowl, whisk together eggs, milk, salt and pepper and pour this mixture over the bread, cheese and veggies, evenly and allow to sit and soak up for 10 minutes.
Meanwhile preheat oven to 325F.
Bake uncovered for 40-50 minutes, checking from time to time not to get too browned on top. If it does get too brown cover with foil and remove when almost done.