Spring is finally here! After what felt like an incredibly long winter, the season has finally changed, and I'm ready to embrace new spring flavors and treats. Or at least, I hope so. While it's technically spring on paper, the weather seems like it hasn't gotten the memo. It's still a little too windy and chilly for my taste, and I don't think I'll feel like it's really spring until I can walk outside in jeans, flats, and a light cardigan. In any case, even if I'm still heading out in a coat and scarf, at least I can say that I'm not wearing my heavy parka anymore! I'll give the weather a few more weeks to catch up on the fact that it's no longer winter, but in the meantime we can pretend that spring is here in full bloom. One of the best ways of playing pretend is by changing up what comes out of our kitchens!
It's time to lighten things up for spring. All I seem to crave right about now are fruity desserts, light and refreshing drinks, and quick, simple to prepare treats. Ultra rich brownies and cookies, delicious as they are, are not cutting it right now. I've especially been craving light and fluffy coconut treats lately, so I thought that putting a fun spin on one of my favorite treats, the coconut macaroon, was in order. I decided to take a  basic coconut macaroon recipe and use it as a means to make a simple mini tart shell. Now that I had a shell, I needed a filling. Because I wanted to keep things simple and refreshing, lemon curd seemed like a perfect choice, and topping off the lemon curd with a fresh berry seemed like a natural finishing touch. These little coconut macaroon tartlets are the perfect way to welcome in the season!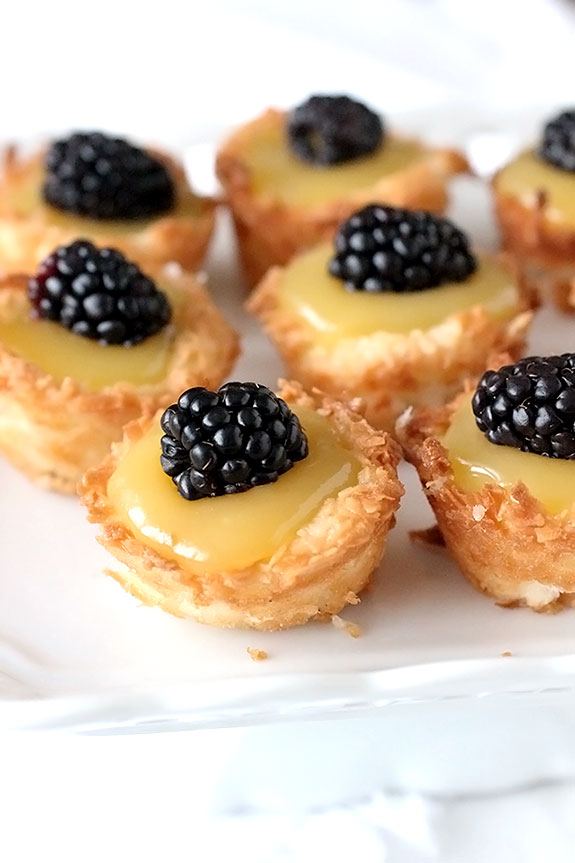 These mini tartlets are a great option for dessert if you're planning a simple get-together to celebrate the arrival of Spring. They take almost no time to mix up, and they take even less time to assemble once they've been baked. What's so great about this is that once you have the macaroon tartlet base, you can really change up the flavors to suit whatever you're craving. I'm sure that any berry would work really nicely with the lemon curd, but you don't even have to use lemon curd!  Any other fruit filling would work really well with the coconut base. And, if you're feeling like being a little decadent, I'm sure that a dallop of chocolate ganache would be fantastic in these! These mini coconut macaroon tartlets are versatile and so simple to make, you'll make them again and again this spring.  Enjoy!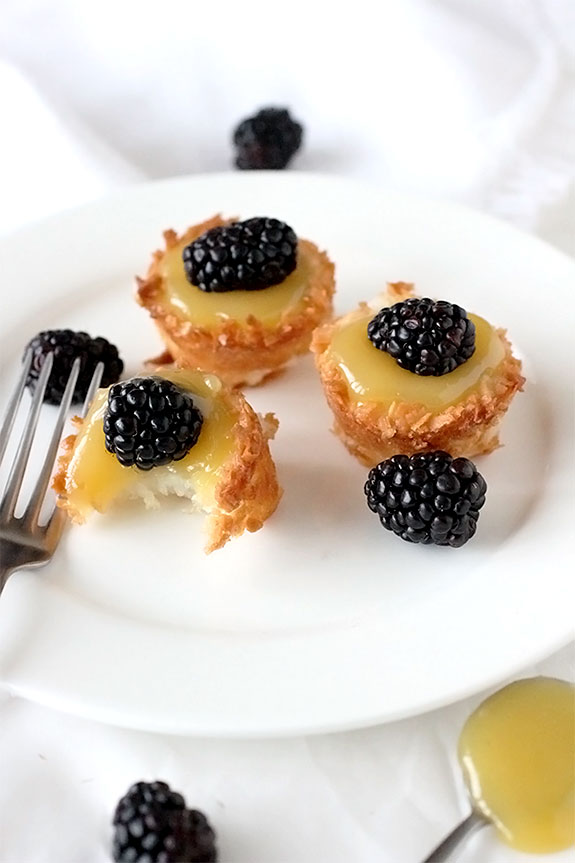 Recipe for Coconut Macaroon Tartlets
Ingredients
For the Tartlets
1 1/2 cups sweetened shredded coconut
2 egg whites
3-4 tablespoons sugar (to taste)
For the Topping
3 tablespoons lemon curd
fresh blackberries (or any berry would be great!)
Directions
Preheat the oven to 350 degrees F and position a rack in the middle of the oven.  Lightly grease a mini muffin tin with nonstick spray.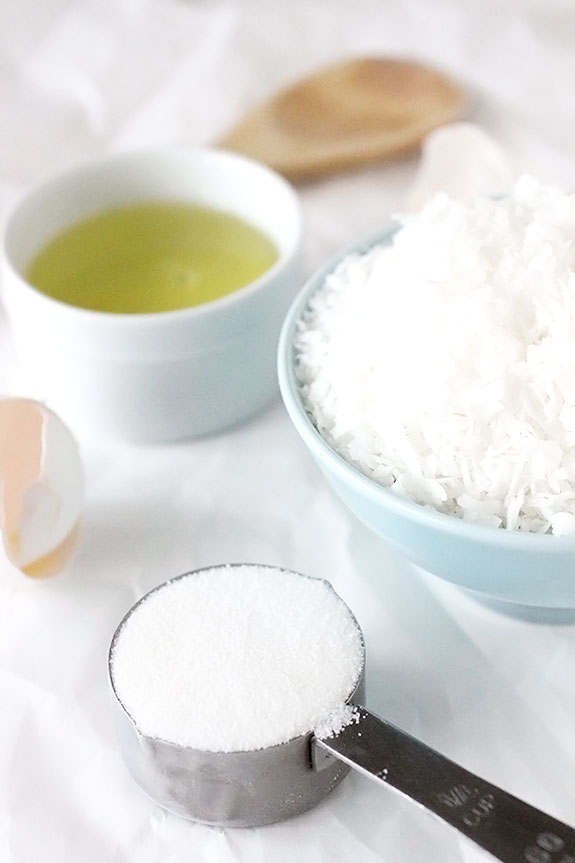 In a medium sized bowl, combine together the coconut, egg whites, and sugar, stirring until well combined. Scoop a heaping tablespoon of the coconut mixture into each well of the mini muffin tin. Use a spoon to help get the coconut mixture up the sides and around the bottom. Bake the mini macaroon shells in the oven for about 20-25 minutes until they are just turning golden brown around the edges. If you notice that they're getting too brown before the time is up, simply use place a sheet of aluminum foil to lightly cover the tops of the mini tartlet shells.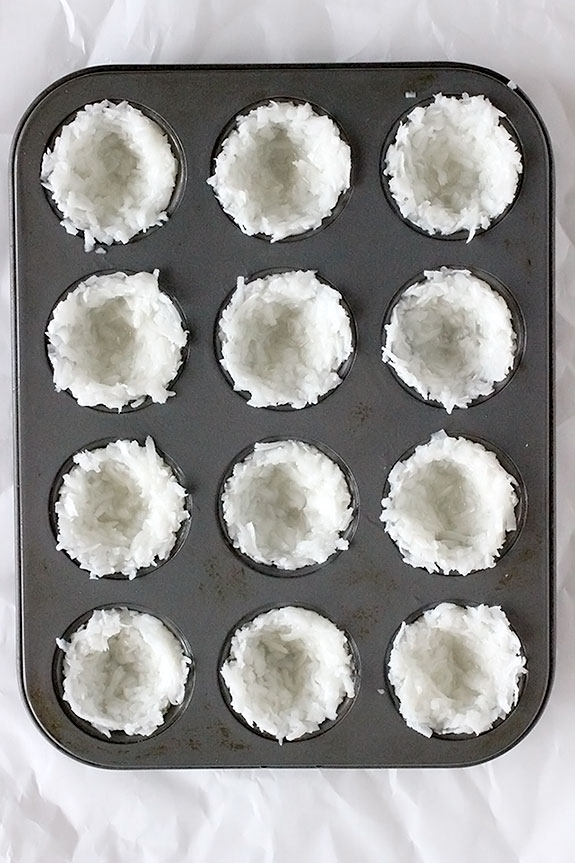 Once baked, let the tartlet shells cool completely on a wire rack. When cooled, fill each tartlet shell with about a teaspoon of the lemon curd (or your other favorite flavor), and top with a fresh blackberry.  Enjoy!
Makes 12 mini tartlets