Summer is here and it's time to get your potluck recipes ready. I'll be bringing along my Crab Artichoke Dip to snack on all summer long. This dip is one of those crave worthy recipes that everyone loves, it's always a hit at a party!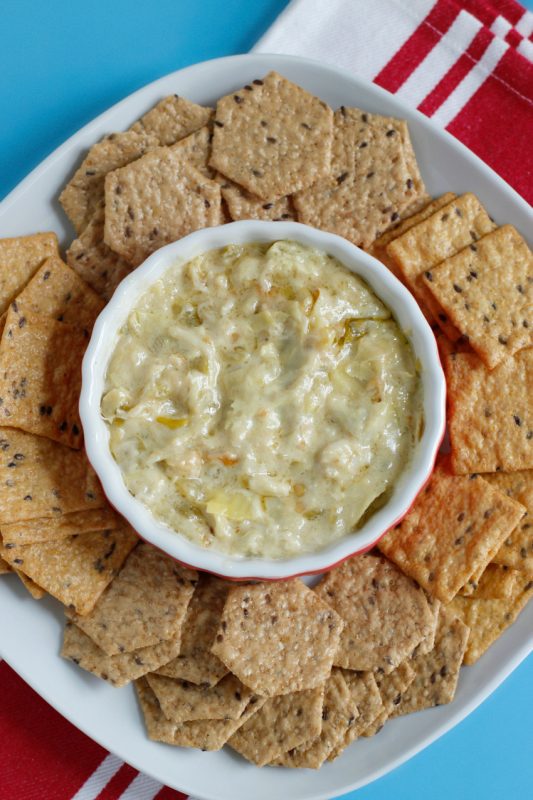 We're partnering with Crunchmaster™ crackers to help celebrate with family for the weekend. Not only are these crackers a perfect pairing for our dip, they are gluten-free to boot. Great for snacking with all summer long. These crackers are a simple, nutritious option you can feel good about serving at your next backyard BBQ! Whole grain, low in sugar and free of saturated and trans fats ~ yes!
Crab Artichoke Dip
We make our dip 2 ways, since some in our family aren't quite as spicy as the rest ;) Add diced jalapeño into the dip or on top as a garnish, depending on your spiciness level!
Crab Artichoke Dip Recipe:
1/2 cup chopped crab meat
1 14 oz. can artichokes, diced
1 4oz. can diced green chilies
1 cup mayonnaise
1 cup grated parmesan cheese
optional – 1 tablespoon diced jalapeño with seeds removed
Method:
Preheat oven to 350ºF.
In a bowl, add crab meat, diced artichokes, diced green chillies, mayonnaise, and grated parmesan cheese. Mix well. Add in your diced jalapeño if desired.
Transfer your mix to a baking dish, 7×9 in or 8×8 in. Even out the dip in the baking dish with a spatula.
Bake for 25-30 minutes, or until slightly golden on top and bubbly on the edges. Remove from the oven and let cool before serving.
If you didn't add your diced jalapeño yet, you can sprinkle it on top once it's out of the oven.
Now your dip is ready for crackers! Enjoy your Memorial weekend snacking and dipping Crab Artichoke Dip with family and friends!
*This post is sponsored by Crunchmaster™. Be sure to follow them on facebook and twitter for more recipes ideas and inspiration!