Super Bowl Sunday is just around the corner, are you ready?  Excited?  Pumped?!  I sure am, but not for the football.  I'm one of those people who literally knows nothing about football and will just nod in agreement whenever the topic comes up, but I do know one thing about the game.
Game day means that there will be lots of really good food.  I love appetizers and snacks and munchie foods, like chips and dip, pretzels, bacon-wrapped anything, and everything buffalo chicken.  I may not be too excited about what's going on on the TV, but the prospect of game-day party food is always something worth getting excited about.
Since I love almost everything that includes "buffalo chicken" in the name or ingredients and the Super Bowl is just a few days away, I figured it would be perfectly fitting to make an easy treat that would be perfect for snacking on throughout the game.
Thanks to my Latin background, empanadas are a treat that I grew up eating a lot of.  I loved (and still do) them in all shapes and forms.  Baked, fried, with meat or with chicken, I loved them all.  I thought a buffalo chicken empanada would be a great, easy appetizer to serve in front of the TV on Super Bowl Sunday.
These empanadas only took a few minutes to make, but they took even less time to be gobbled up by my family!
To keep these empanadas simple to make, I used premade empanada dough discs by Goya.  You can definitely find them in any Latin supermarket without any trouble, but a lot of regular supermarkets are carrying these discs too.  The package I used for this particular batch actually came from the freezer section of my regular supermarket, so they shouldn't be too tough to find. Once you have the dough, all you need is some shredded chicken and some buffalo sauce and you're good to go!  All you have to do is mix the chicken with the sauce, lay it on the dough round, fold it in half, and then seal shut.
I chose to make, or attempt, a pretty spiral seal around the edges of my empanadas.  Some ended up looking a little nicer than others, but they all tasted great in the end.  If you want, you can simply use a fork to seal the empanadas shut.  I served my empanadas with more hot sauce, blue cheese dressing, and some celery sticks.  They were nice and spicy, and really convenient to eat.  Since these don't require plates or utensils to eat, they're an excellent, unconventional game day food.
Enjoy, and hopefully your team (whoever they may be…) scores big!
 Ingredients for Easy Buffalo Chicken Empanadas
1 package Goya empanada discos, thawed and at room temperature
1 3/4 cups shredded chicken
1/2 cup Frank's Original Hot Sauce (use more or less depending on your taste)
1 egg, beaten with 1 tablespoon water
blue cheese or ranch dressing, for serving
Directions
Preheat the oven to 375 degrees F and position a rack in the middle of the oven.  Line a baking sheet with a silicone liner or parchment paper.
In a bowl, mix together the shredded chicken with the hot sauce, mixing so that the chicken is evenly coated.  Set aside.
On a clean work surface, use a rolling pin to gently roll out a disc of empanada dough.  You don't need to roll it out very much, just stretch it out slightly.  Place about 2 heaping tablespoonfuls of the shredded chicken in the center of the disc of dough.  With your finger or a small brush, dab a small amount of water all around the edges of the dough.
Fold the dough over itself to create a half moon shape, and press together gently.  Using your fingers, gently fold the edges of the dough over itself.  Essentially, begin at one end of the half moon and fold the corner in on itself.  Repeat that same motion all the way around the edge of the empanada, stretching the dough slightly if needed, until you reach the other end.  This will create a pretty spiral seal.
If you want to seal the empanadas more simply, just use a fork to crimp the edges all the way around.  Repeat with the remaining empanada discs and shredded chicken.
Arrange the empanadas on the prepared baking sheet.  Brush the tops and edges with the egg wash, and place in the oven.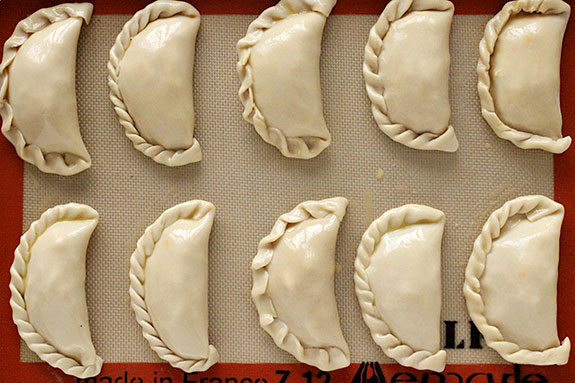 Bake the empanadas until they're golden brown, about 25 minutes.  Let the empanadas cool slightly before serving.  Serve with more hot sauce, blue cheese or ranch dressing.  Enjoy!
Makes 10 empanadas