Chicken Enchiladas are one of our family's staple dinner meals. They are so easy to make and everyone loves them. And these chicken dinner enchiladas work so well to make ahead of time, especially if you're making these for a big family party!
Make-Ahead Chicken Enchiladas
Thanks to my sweet sister-in-law Cathy, our family has been making these enchiladas for years! With only a few ingredients, you'll have dinner ready in no time.
Chicken Enchiladas Recipe Video:
Ingredients:
2 cups chicken
10-12 flour tortillas
2 cups cheese
enchilada sauce 14 oz can – any flavor, we love the red and green sauce
optional: 1 cup sour cream
optional: diced green chiles
Method:
Mix together your chicken, 3/4 of your enchilada sauce, and 1 1/2 cup of cheese in a bowl (save the extra sauce and cheese for the topping). Add in any other of the optional extras, like sour cream or dice green chiles.
Add a spoonful or 2 of your mix to the center of the tortilla. Spread it down in a line in the center of the tortilla.
Roll up your tortilla and place it in a baking dish.
When all your enchiladas are wrapped, pour the extra sauce over them and sprinkle the cheese.
Preheat your oven to 350 and bake your enchiladas for 15-20 minutes or until the cheese is melted and starting to brown.
This is such a great meal to make ahead of time, I will often double the recipe and freeze half of it for later. It's great to make for friends who need an extra meal!
Place your enchiladas into a tinfoil pan uncooked and add a layer of tinfoil to the top.
I like to write on the foil what is inside and the cooking instructions. This makes it helpful if it's placed in the freezer!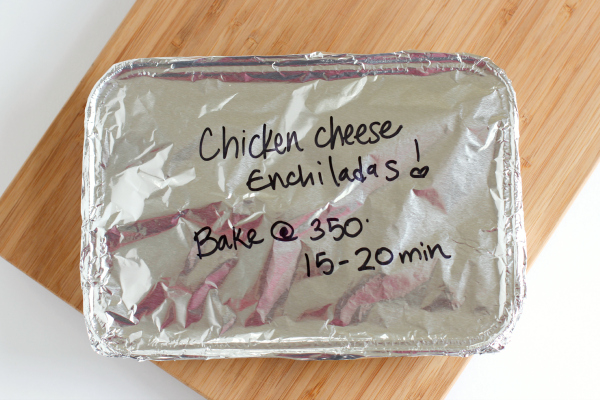 Now it's ready to give to friends and family in need of a meal. They can read the top and know how to bake it for their dinner!
Pin this post for later:
More Yummy Mexican Themed Recipes: