I don't care much for mayo-based potato salads. While I like a creamy dressing, the mayo feels a bit too heavy to me. So usually I opt for a salad more along the lines of a German potato salad made with an herb vinaigrette. Think of this as a healthified potato salad–but one that doesn't skimp, not even the tiniest bit, on flavor. I love it because in the dressing I still get the creaminess from the Greek yogurt, but I also get fresh, herb flavor from the pesto, and a burst of brightness from lemon zest and juice. It doesn't feel weighed down. As far as I'm concerned, it's practically the perfect healthy potato salad.
Healthy Potato Salad
The other great thing? It comes together in a the time it takes to boil the potatoes. Perfect for a quick lunch or as a side for grilled chicken or fish. Or to take to a potluck. It's easy to double it, and you'll want to because it's sure to be popular. It might just become your favorite potato salad too!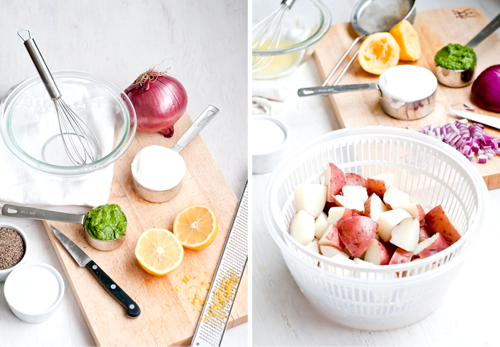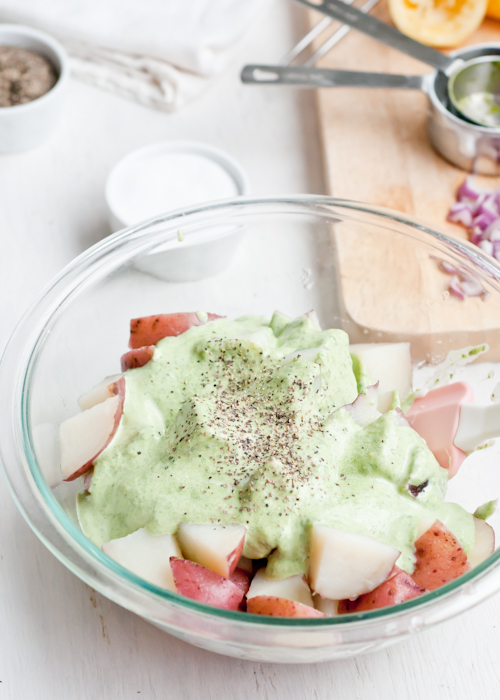 If you like potato salad loaded with other goodies, I've included some variations below.
Healthy Potato Salad with Creamy Pesto Dressing
Ingredients:
2 lbs. red potatoes, peeled if desired, and cut into 1″ chunks
1/2 cup nonfat Greek yogurt
1/4 cup prepared pesto (homemade or store-bought)
juice and finely grated zest of 1 lemon
diced red onion (can substitute sliced green onions)
salt and pepper, to taste
fresh herbs, for garnish
Method:
Boil potatoes in salted water until just tender. Drain and let cool completely.
Whisk the yogurt, pesto, lemon juice and zest together in a small bowl. Taste and season well with salt and pepper. Pour over the potatoes. Garnish with the red onion and fresh herbs.  Serve.
Yield: 4-6 servings.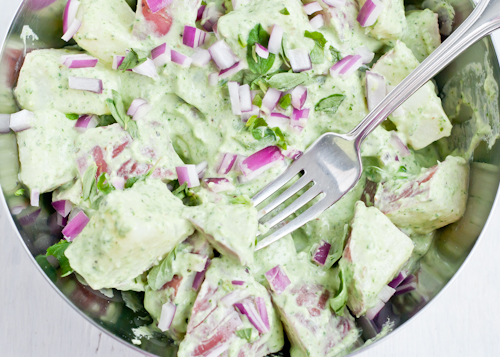 Variations and add-ins:
chopped hard boiled egg
sliced or chopped Kalamata olives
fresh shelled peas and replace the pesto with 2 Tbsp. minced fresh mint leaves and add a little olive oil
diced fresh tomatoes or diced sun-dried tomatoes
blanched asparagus cut into 1″ pieces