I'm continuing my week of apples with homemade applesauce. My parents have a lot of apple trees and I'm fortunate enough to use them for my applesauce. Last year, we made it with a big fancy machine that squeezes the insides out and catches the skin and core. But it's a tad bit messy and takes a strong arm to turn the handle, so here I'm sharing how to make it all by hand – so easy.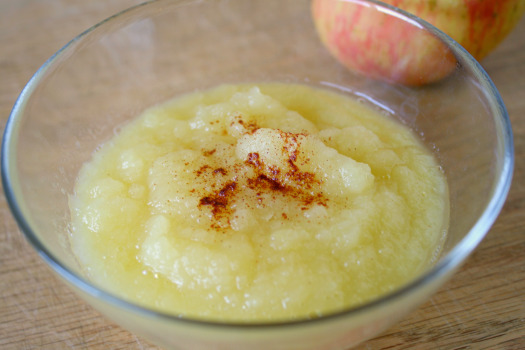 Supplies for Homemade Applesauce:
4 apples
knife
apple slicer – optional
large pot
blender
cinnamon
We're making homemade applesauce using a blender instead. I used 4 apples and it makes about 2 cups. I just used what was on hand, fuji apples. I peeled them with a knife, but an apple peeler here would be great too.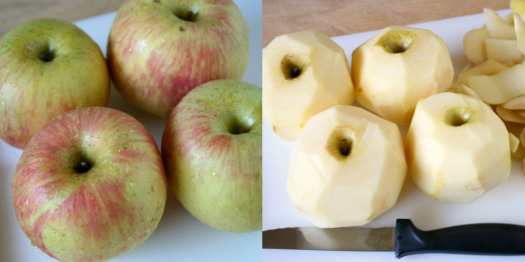 Then I use my trusty apple slicer, which cores it too. Thanks Becca, for the great apple shaped slicer.
Now toss the apples in a large saucepan filled with 1 inch of water and bring to a boil. Turn low and continue to boil until the apples are fork tender. Drain the water out and pour tender apples into a blender. Blend them to a puree. Add a dash of cinnamon and blend again. Give it a taste and see if you need more. If my apples aren't sweet enough, I'll sometimes add about 1 tsp of honey.
Pour into bowls and you have a perfect snack for you and the kids. We ate it right away and it was delicious, still warm from the cooking. You can easily freeze a large batch of this if you put it in a freezer safe container, then pull out for later.