As with most of us, each year I need to come up with some sort of treat or gift to give to friends, teachers and co-workers. This year I am beyond excited about what we've put together…Hot Chocolate on a Stick! They are adorable and the perfect cozy, winter treat!
Hot Chocolate on a Stick
Because I loved the homemade marshmallows so much last December, I wanted to do something that incorporated them again somehow. Hot Chocolate on a Stick is such a fun idea and I get to use homemade marshmallows! Full confession – this is not my brilliant idea. The recipe is originally from the King Arthur Flour website, and another food blogger whipped them up last year and wrote about it. And, since I'm in confession mode, my sister-in-law Cora is the one who found the links to begin with! Once I saw the recipe, I immediately fell in love and knew these puppies would be the treat for 2010! Wait, puppies are not the treat for 2010. Scratch that.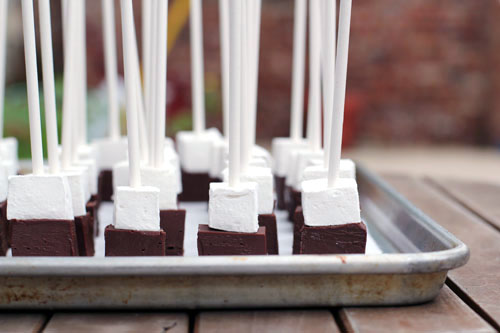 How to: Hot Chocolate on a Stick
I followed the marshmallow recipe that I used last year, and used the King Arthur recipe almost directly, with a few small tweaks. Please click here for the marshmallows and continue reading for the hot chocolate blocks.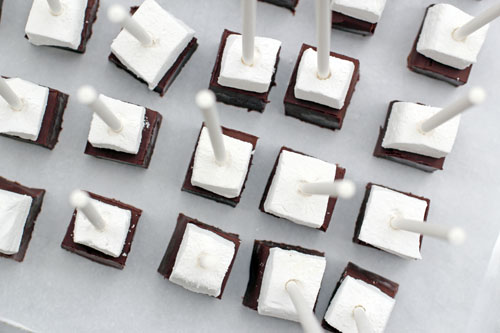 For planning purposes you should know that the marshmallows have to sit for at least 4 hours before cutting, and the chocolate blocks have to sit for about 12 hours before cutting.
Hot Chocolate Blocks:

From King Arthur Flour
1/2 cup heavy cream
One 14-oz can sweetened condensed milk
3 cups semisweet or bittersweet chocolate, chopped or in chips (Jane note: I actually used 1 cup 60% cacao chips, 1 cup semi-sweet chips, and 1 cup milk chocolate chips)
One 4-oz bar unsweetened chocolate (broken or chopped into smaller pieces)
Wooden or cookie/lollipop sticks
8″x8″ pan, lined with parchment paper
Method
Heat the cream and sweetened condensed milk over medium-low heat until it starts steaming, stirring periodically. Remove from heat and add chocolate. Stir and let sit for 10 minutes, then put back on medium-low heat and stir with a whisk until chocolate is completely melted and shiny. (At this point you could add some flavoring…vanilla, hazelnut, peppermint, whatever fits your fancy!)
Pour chocolate into prepared pan and spread chocolate as level as you possibly can. Let sit overnight (12 hours or so).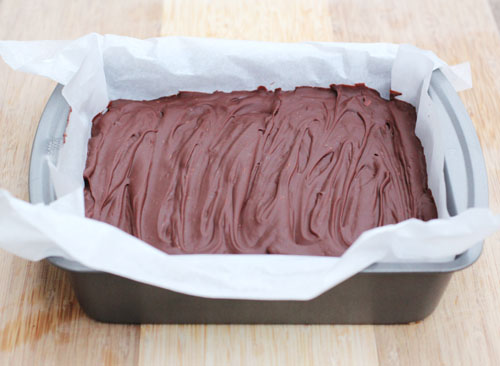 Remove chocolate from pan and cut, top side face down, into squares. Divide the block into sixths each direction, so your squares will be a bit larger than 1″ x 1″. Use a long, thin knife. Heat the knife under hot water, wipe dry with a towel or paper towel, make a few cuts, then repeat the knife-heating procedure. Makes 36 squares, although those corner squares are shaped a little funny…you might just want to eat those straight up while you're cooking. You need the energy for all this hard work.
For both the marshmallows and the chocolate squares, feel free to get creative with flavorings and/or rolling them in peppermint pieces, cocoa, etc. I just used a little vanilla in the chocolate and kept it simple. And they are still mighty delicious! One stick is good for about 4 – 8 ounces of hot milk…depending on how chocolatey you like it.
Holiday Packaging
I wrapped each stick in a square of cellophane and tied it with a pretty ribbon. I'm kind of in love with my hot chocolates on sticks.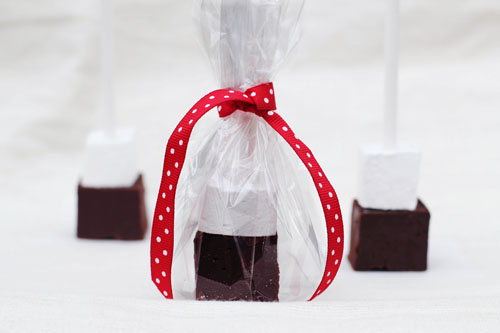 For delivery, I packed the sticks in white lunch bags (I found some at Target) with the tops cut off so that the sticks would poke out the top. I then stapled a simple card printed from my computer with directions for the chocolate. (Click here to download cards you can print and use. Consider it my holiday gift to you!) For a few people I actually drew a snowman on the bag. Then I realized I was going to be drawing snowmen forever and I gave up.
You can fit about 6 sticks in one bag comfortably. Because your hot chocolate wants to be comfortable. Trust me.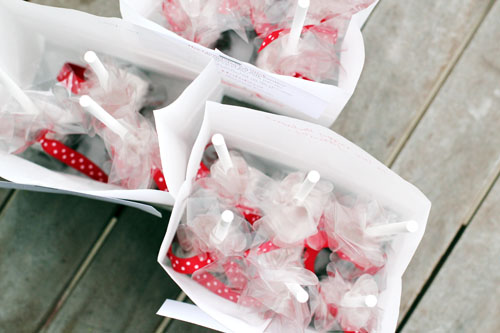 I made three batches of the chocolate blocks and 2 batches of the marshmallows. I was able to make about 100 sticks, with marshmallows leftover.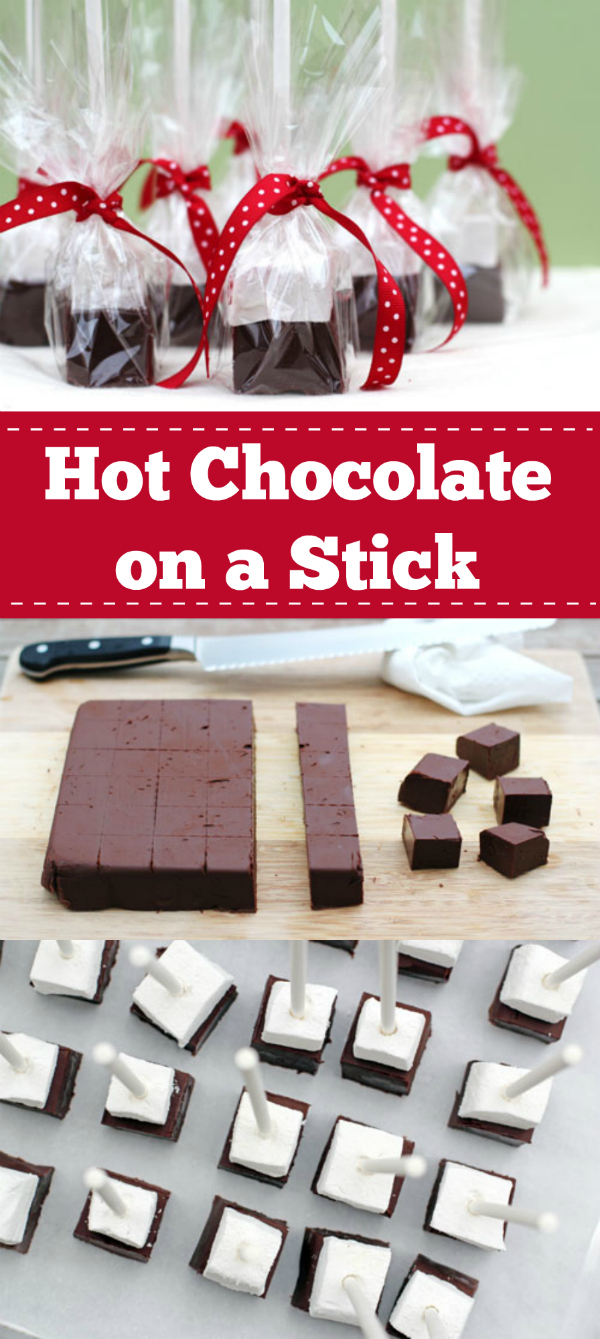 Also, I made sure to cut the marshmallows a bit smaller than the chocolates, I thought they looked a little cuter and more balanced that way.
There you have it! Hot Chocolate on a Stick! Happy Holidays!