I love pancakes! We eat them for dinner atleast once a month. They are easy and delicious, and put a smile on your face. My son, Matthew, was begging for me to make them this week, so I documented it and will give you the best, most delicious pancake recipe out there.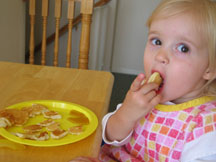 This recipe comes from Miss Make and Taker herself, Martha Stewart. I used to make pancakes with that big yellow box of Bisquick. Then I thought to try this recipe out and it is just as quick as Bisquick, but soooo much better.
Best Quick Pancakes  (Martha)
2 T. melted butter
1 C. flour
2 t. baking powder
½ t. salt
2 T. sugar
1 large egg, lightly beaten
1 C. milk
Heat griddle to 375 or medium heat. Whisk flour, baking powder, salt, and sugar in bowl. Add egg, milk, and 2 T. melted butter; whisk to combine. Cook. Smile. (I added that last one.)
Here are a few more fun things to do with your pancakes to keep the smiles going. When I was single and only feeding one, I would cook my pancakes on a frying pan. NO more. I love my electric griddle. There is "even" cooking of the pancake and it heats up really fast. It is bulky and tricky to store in my cupboard, but so worth it.
For a yummy added bonus, chocolate chips are a must. I grew up with Chocolate Chip Pancakes. My mother would put them in as a little treat. Now I can't really eat pancakes without. I will also often add bananas to my batter, sliced up really thin. Cook these a little longer as the bananas add more moisture. My kids love Jack Johnson's song, "Banana Pancakes", so we will make these and sing this great song.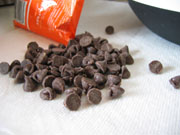 A few years ago I bought these pancake molds off the Martha Stewart catalog. They have been fun to use, especially Valentines day. But be frugal on the batter inside each one. Just like my first two, they overflowed when I turned them over. So here is a second attempt that turned out perfect. I used a spoon to even the batter out and it puffed up great.


You can also use this thrifty method to shaping pancakes. I put batter in a plastic baggy and cut the bottom corner off, VERY small cut, or it will come pouring out and a mess. Even my hole was a little too big. Then you can free form your pancakes into whatever shape your "heart" desires. I usually start with the outline, then fill in. I have a heart, a number 2, and the last is supposed to be an M for Matthew.


Have fun making Pancakes and having a big Smile :)