When I was pregnant last year, my oldest daughter (age 10 at the time) decided she wanted to learn how to cook some meals on her own. She figured with a new baby in the house, I might need some help in the kitchen. (She was right!) We decided to practice a few slow cooker meals that she could assemble and serve on her own for dinner. And these slow cooker lentil sloppy joes are the perfect recipe to start with. With no hot oven or burner to worry about, she could confidently fix our family dinner all on her own. Awesome, right?
My girls have surprised me with their love for lentils. Teach your kids how to make this meal, and maybe they will love lentils, too!
Slow Cooker Lentil Sloppy Joes
Recipe:
1 cup dried brown or green lentils
1 1/2 cups vegetable broth
28-oz can crushed tomatoes or diced tomatoes
1/4 cup tomato paste
1/2 yellow onion, chopped fine
3 Tablespoons maple syrup
1 Tablespoon yellow mustard
1 Tablespoon apple cider vinegar
1 Tablespoon minced garlic
1 1/2 teaspoons oregano
1 1/2 teaspoons paprika (smoked paprika is delicious in this)
1 Tablespoon chili powder
1 teaspoon salt
dash of black pepper
Combine all ingredients in the slow cooker. Cook on low for 7-8 hours or on high for 3-4 hours.
Method:
This lentil sloppy joe recipe is super-easy for kids to assemble. Just dump everything in the slow cooker, give it a stir, and turn it on. The only part my girls need help with is dicing the onion. (I try to keep a stash of diced onion in the freezer for times just like this.) They get a good amount of measuring practice when making this, too.
My girls would rather not have chunks of tomato in their sloppy joes, so we usually use crushed tomatoes. If all I have on hand is a can of whole plum tomatoes, I just pulse them in the food processor until crushed.
We like to eat our lentil sloppy joes on toasted, whole wheat hamburger buns. When it's dinnertime, my girls can toast the buns and carefully scoop the hot sloppy joe mixture onto our plates. They love to top theirs with a generous pile of shredded cheese, and sour cream makes a delicious topping as well.
This meal reheats well, and might even be more delicious the next day. It is also a great freezer meal – I just move it to the fridge in the morning, then gently reheat on the stove at dinnertime.
We recently tried using some leftover lentil sloppy joes as a lettuce wrap filling. Pretty tasty! Depending on how saucy your mixture is, you might want to use a slotted spoon when filling the lettuce cups.
The whole family loves this recipe for slow cooker lentil sloppy joes. They are flavorful, but mild, with a touch of sweetness. If you are looking to add a simple, kid-friendly vegetarian meal to your repertoire, I highly recommend giving this recipe a try!
Happy cooking with your kiddos!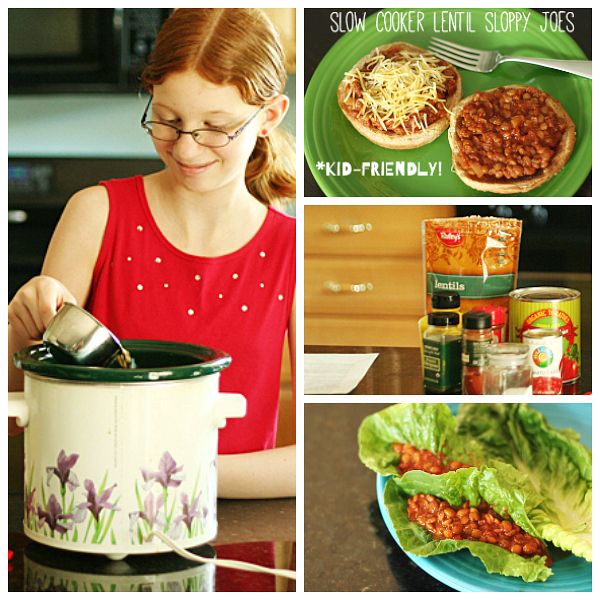 Pin this post for later:
More Slow Cooker meals families will love!
Slow Cooker Butternut Squash and Apple Soup – perfect for a cold winter day, or for a day you might be gone and need a meal you can set and forget. This is such a tasty soup the whole family will love!
6 Slow Cooker Meals for Fall – any one of these recipes would be perfect to make with your kids. Just as the weather is starting to turn chilly, these recipes will warm you up!
Easy Slow Cooker Pork Roast – this is for sure a recipe you can set and forget, but you'll come out with such a delicious pork dinner everyone will love!