I'm always trying to think of quick, tummy-filling breakfasts to give my kids a good start for their day. That goes for school days and school holidays. These loaded breakfast quesadillas are just what they need, plus they're easy to make and a yummy breakfast!
Loaded Breakfast Quesadillas
One of the greatest things I started making for breakfast is loaded quesadillas.  Everyone seems to love them.  It's one way for me to get my pickiest eater to eat more than one food group at a time.  Score!  Another bonus, we've eaten these on the go and if I've used enough cheese to hold everything together, they are not very messy.
I probably don't need to include a step-by-step recipe–who doesn't know how to make a quesadilla?  So I've included a quick recipe and variations of savory and sweet breakfast quesadillas that we've either tried or have wanted to try.
We really like using uncooked tortillas and heating them up on a griddle. They make much better quesadillas. But use whatever you have on hand. We've also made these with corn tortillas, which are a little heartier and not as soft, but our kids have loved them too.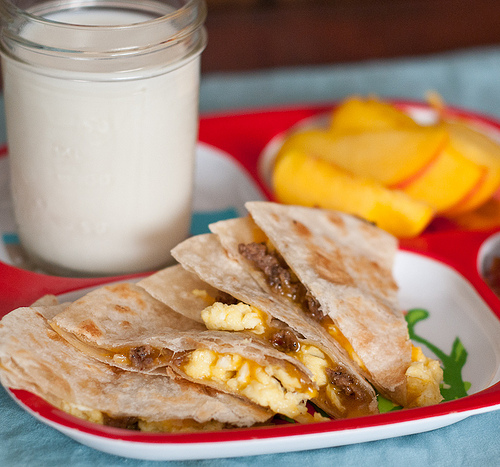 (pictured above is a simple sausage, egg, cheddar quesadilla with fresh fruit and salsa to dip it in)
Breakfast Quesadillas
Ingredients:
To make 4 quesadillas–I'm giving rough measurements of what I use
8 Tortillas (we like the uncooked fresh tortillas)
6 large eggs, scrambled
2-3 cups shredded cheese (cheddar, mozzarella, Swiss, Monterey Jack, Provolone, Gouda, Fontina, etc.) or 1/2 cup creamy cheese for spreading (cream cheese, chevre, mascarpone)
1-2 cups veggies or fruit (Fresh tomatoes (diced or sliced), sundried tomatoes, green or red peppers, mild chiles, green onions, mushrooms, olives, black beans, avocado, thinly sliced cooked potatoes, broccoli, spinach or other leafy greens, thinly sliced apples, pears, peaches or strawberries, etc.)
Cooked and crumbled bacon, diced ham, breakfast or other sausage (chorizo, Italian, kielbasa, etc.) or thinly sliced deli meat
Method:
If using fresh tortillas, briefly cook the tortillas on a hot, ungreased griddle for about 30 seconds per  side.
Layer fillings over one of the tortillas ending with the shredded cheese (or spread one of the tortillas with a creamy cheese).  Cook on the griddle until nicely browned on each side.  Cut into wedges and serve.
Variations for Breakfast Quesadillas:
Ham, scrambled eggs, cheddar, tomato slices, and green onions
Sausage, scrambled eggs, Monterey Jack, green pepper or mild chiles, tomatoes
Bacon, Swiss cheese, thin slices of apple or pear, scrambled eggs (optional)
Mozzarella, tomatoes, canadian bacon or pepperoni, basil pesto, scrambled eggs
Mexican cheese blend, scrambled eggs, chorizo, black olives, black beans served with pico de gallo and sour cream
Tomato, sliced turkey, cheddar, scrambled eggs
Broccoli (in small pieces), sauteed mushrooms, scrambled eggs, Swiss or cheddar cheese
Cream cheese and jam, eggs (optional)
Fresh goat cheese, sundried tomatoes, fresh basil leaves
Thinly sliced cooked potatoes, fontina, fresh herbs, eggs
Hummus, tomatoes, olives, green onions (Dairy free, vegan–this is out of a cookbook I have)
Mascarpone and nutella, thinly sliced strawberries
Dips:
Guacamole
Salsa
Sour Cream or unsweetened yogurt
Hummus
The possibilities are endless! Enjoy your breakfast with these delicious breakfast ideas!