I love fleece. It is soft, doesn't fray when cut, and there are many projects with fleece that don't require sewing. Last Fall, I posted about a No-Sew Fleece Poncho. Now our winter bodies are ready for a fleece scarf to keep the chill away from our necks. Lucy's saying, "It's cooooold".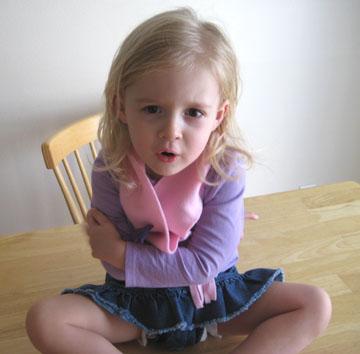 First, you need some fleece, any color will do. Pink and blue is what I had laying around. My scarf measures 4 inches wide and 45 inches long. Next time, I think I will make mine 5 inches wide, giving a little more for the neck. My kids scarves are 3 inches wide and 35 inches long. Cut your fleece to suit you, any width or length.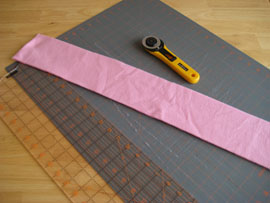 I cut fringe at the bottom to give it a more finished look. For a girlie look, I made each cut 1/4 inch wide and 3 inches long. For Matt's, I made the cuts a little thicker, it looks more boyish to me. You can make yours any size. You could even make little knots at the ends.
Your scarf can be done here, or you can give it a little something extra. I wanted my scarves to be attached together so that they don't come apart and let the chill in. Here are three options that will give you that effect.
Option 1 – For my scarf, (warning: I did have to sew this button on, but I didn't use a sewing machine!) I sewed a button on one side, 16 inches up from the bottom. Then I cut a small 1/2 inch slit on the opposite side, also 16 inches up from the bottom (with fleece, when you cut a slit, there is no fraying, so the button hole is good as is with no sewing.) Then I slipped the button through the hole. Having this button will help your scarf stay tight to your neck and keep you snug as a bug.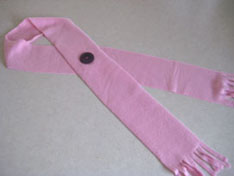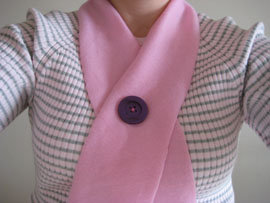 Option 2 – For the Lucy's scarf, I did it a little different. On each side, I cut a small 1/2 inch slit, 8 inches up from the bottom. Then I cut out a tulip flower that has a tulip on both sides and a small middle section. I then threaded one of the tulips through both slits. This fastened the scarf together and shows off a fun flower.
Option 3 – For Matt's scarf, I cut a football shape out of felt (I didn't have brown fleece.) I did stitch the football stitching with white thread first. Then I hot glued it on to one side, up 8 inches. Then I cut a small button hole slit on the other side, up 8 inches. Then I slipped the football through the hole. A fun football felt button.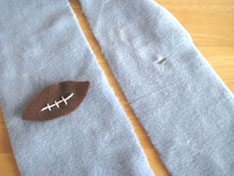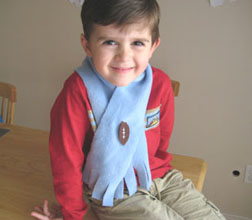 I think I will be surprising a sister with a new fleece scarf. Happy B-day, Suzie. I doubt she'll read all the way through this post, so it will still be a surprise!!