Banana bread is a comfort food. Sweet, dense, and full of bright flavor, the bread has a way of cheering people up and turning a bad day around. The scent of the baking bread infusing a home calms tempers and eases woes. Problems are solved over the kitchen table, one buttered slice at a time.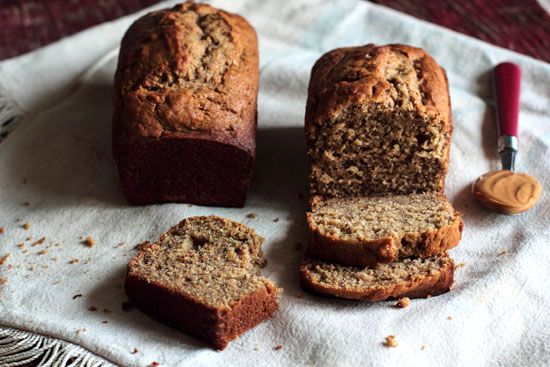 Peanut Butter Banana Bread
Needing a bit of a pick-me-up recently, I allowed a few of the bananas on the kitchen counter to turn dark. I assembled the ingredients and, as a last minute decision, added half a cup of peanut butter. The peanut butter and banana combination is just as delicious with the flavors layered in a loaf of bread as they are in a sandwiched. I ate the bread warm, with a thin spread of peanut butter. It was just the amount of comfort I needed.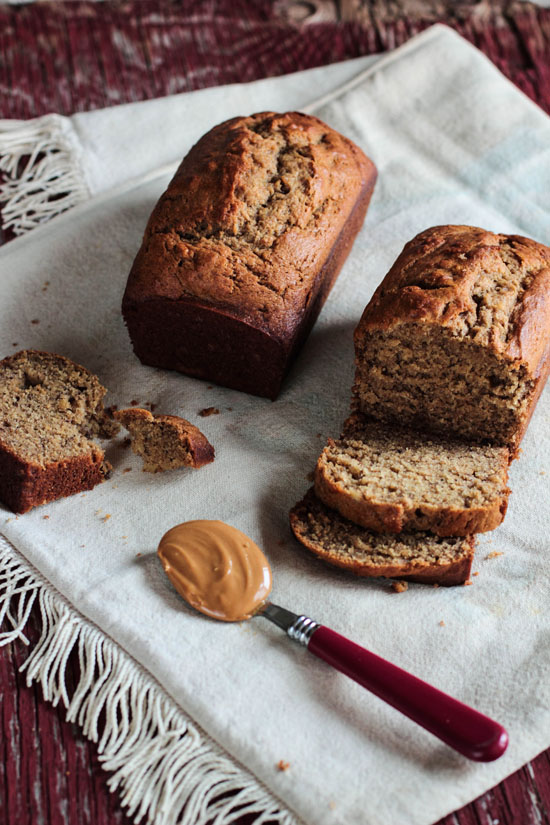 Whether you choose to use creamy or chunky peanut butter all comes down to your own personal preference. While creamy peanut butter lends a smooth textured bread, the roasted peanuts in chunky peanut butter can give it a bit of a bite. Even a few extra roasted peanuts or a handful of chocolate chips wouldn't be amiss in this loaf.
Peanut Butter Banana Bread
Yields 9 x 5-inch loaf
1/2 cup (1 stick or 113 grams) butter
3/4 cup (150 grams) brown sugar, packed
2 large eggs
1 teaspoon vanilla extract
3 large ripe bananas, mashed
1/2 cup (130 grams) peanut butter
1 cup (125 grams) all-purpose flour
1 cup (120 grams) whole wheat flour
1 teaspoon baking soda
1 teaspoon baking powder
1/2 teaspoon salt
1/4 cup (60 ml) milk
Preheat oven to 350 degrees F (180 degrees C). Grease a loaf pan.
In a large mixing bowl, cream together the butter and sugar until light and fluffy. Beat in the eggs one at a time, mixing well between additions. Beat in the vanilla extract, mashed bananas, and peanut butter until fully incorporated. Mix in the flours, baking soda, baking powder, and salt. Stir in the milk.
Transfer batter to the prepared loaf pan and bake for 55 to 65 minutes, or until a toothpick inserted into the center comes out clean. Cool loaf in pan for 10 minutes before removing and transferring to a cooling rack to cool completely.