I make this easy taco soup at least once a month. It is easy on the paycheck and quick in the kitchen. I first got this recipe from my darling friend, Becca. It's such a great one for a big family, my kids love when I make this, which is about once a month, ha!
Everyone in our family loves it. It's great for big groups too, if you're hosting another family. Pair with with some chips and sour cream for toppings. I love corn chips or tortilla chips. This could also work really well as a dip too, like salsa. Host a party and serve up some yummy taco soup!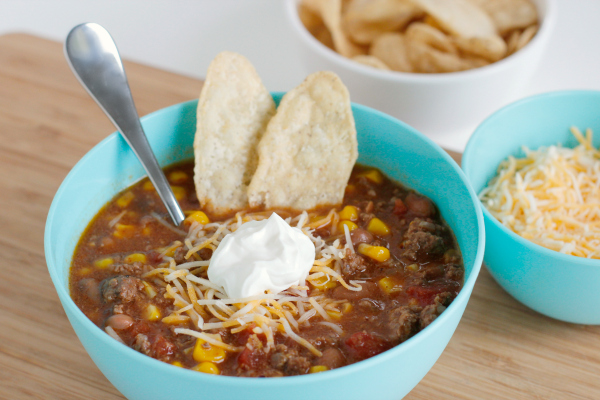 Easy Taco Soup Recipe
Ingredients:
1 lb. ground beef, cooked
1 14oz. can corn (don't drain)
2 14oz. cans pinto beans (don't drain)
2 14oz. cans stewed tomatoes, pureed (don't drain)
1 packet Taco Seasoning ( or less for not as spicy)
Method:
Mix all together in a large saucepan. Simmer for 8-10 minutes.
Serve with sour cream, shredded cheese, and tortilla chips.
With my family, I end up freezing half of this recipe for later. There's plenty. I ladle it into freezer bags and label it with the name of the soup and the date I made it. It freezes really well and cooks up easy. Enjoy, it's the perfect weather for something warm!
Want more soup recipes?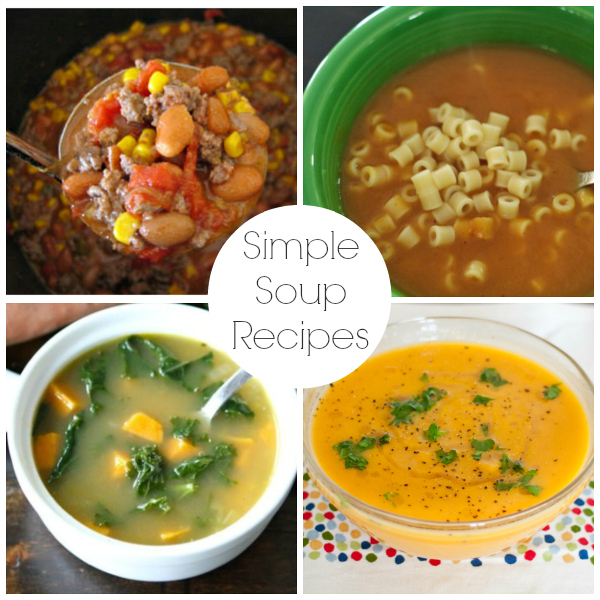 2. Slow Cooker Butternut Squash and Apple Soup