Thanksgiving is tomorrow! Are you ready? I am sure most of you have your menus finalized by now, but in case you forgot to include a salad, I have an easy and delicious recipe to share. This roasted butternut squash salad is one of my favorite Thanksgiving side dishes. I make it every year and everyone loves it.
The roasted butternut squash is the star of the salad, but the pecans, cranberries, and blue cheese also make this salad super tasty. The flavors and colors are perfect for fall. To keep things simple, I use a store bought salad dressing to complete the salad. Cranberry or balsamic vinaigrette dressings are my favorite, but feel free to use whatever dressing you like.
Add this roasted butternut squash salad to your Thanksgiving table this year. I am sure your guests will enjoy it.
Happy Thanksgiving!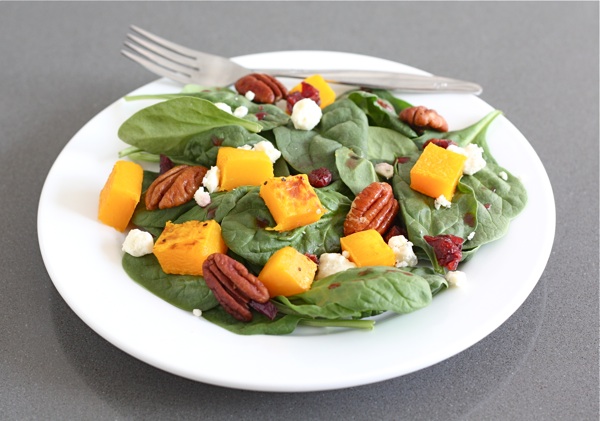 Roasted Butternut Squash Salad
1 small butternut squash, peeled and cut into 1/2 inch cubes
Drizzle of olive oil
Salt and pepper, to taste
1 bunch or bag fresh spinach
1/2 cup pecans
1/2 cup dried cranberries
1/3 cup blue cheese
Dressing-cranberry or balsamic vinaigrette
1. Preheat the oven to 400 degrees F. Place the butternut squash on a large baking sheet. Drizzle squash with olive oil and season with salt and pepper. Roast the squash for 15 to 20 minutes, stirring once, until squash is soft and tender. Remove from the oven and let squash cool.
2. In a large bowl, add the spinach, butternut squash, pecans, dried cranberries, and blue cheese. Drizzle salad with dressing and lightly toss.
Serves 6-8

Maria and her husband, Josh, are Two Peas and Their Pod. They are known as the "cooking couple" and are a great team in the kitchen. They love trying new recipes, flavors, and techniques and sharing their creations with the world. They try to keep things healthy, but they always save room for dessert.