The Mother's Day Project was formed to give tribute to Mothers who've fought and lost their lives in the Iraq war. Names of mothers have been submitted, stitched, and sewn, so we can remember them and their bravery. I first saw this at Portabellopixie and was so moved that I requested to stitch a Mother's name myself.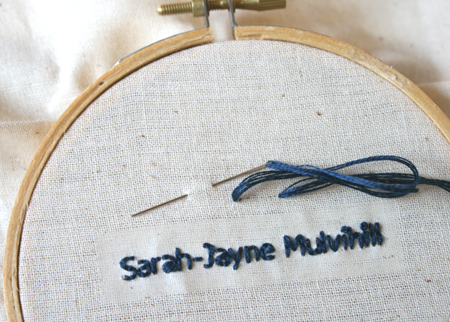 Sarah-Jayne Mulvihill served as a Flight Operations Officer for the British Army. She died at the age of 32 on May 6th, 2006. She was a wife, mother, and friend. My heart goes out to Sarah-Jayne's family and all other service men and women who've lost their lives or who still fight today. Thank you.
For more information, or if you'd like to join the project as they're still looking for volunteers, please visit The Mother's Day Project.