Mail Time! Here's the mail, it never fails. It makes me want to wag my tail. When it comes I want to wail, Mail!! I just have to share these great products that I just got in the Mail from 2 fabulous Etsy sellers.
This first shop I found by chance as I was just surfing through Etsy. It is called Little Put Books. Then I realized how fabulous her little necklace charms were and only $11! Then I see that she has sold over 2000 items at her store and I couldn't believe it. She sells something very unique and at a great price. I have been eyeing them for a while and finally decided to purchase a few. They go fast, so I had to make a decision on which ones I wanted most. I will be getting more, they are the perfect gifts. Her shipping is only $1.50, which is a steal too. They come in this cute little tin that is charming in itself!
The next fabulous shop is Mary Mo. I had adored the photos of her products and emailed her asking who took them and how. She emailed back and gave me some great advice to help the pictures of my products and I think they look so much better than they did when I first opened up. So as I kept going back to her amazing store, I realized how darling her Hair Ponies are. She was selling so many hair ponies that she came up with a pattern for others to make them. I couldn't resist. So I bought the pattern. It was only $8 and came in a PDF file with no shipping charges. I got all of the supplies and made the cutest hair ponies. I do need to get some more fabric to make more, I just used what I had. I have grown out my hair, which for most of my life has been short, and I still forget that I can wear this kind of stuff. I love them.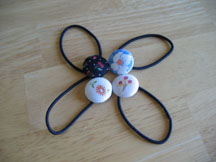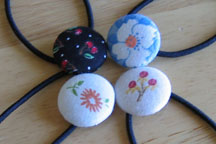 I love my new Etsy products and I am always on the search for more fun stuff. I will post my other fabulous purchases when they come. I love good handmade stuff, but who doesn't. Have fun shopping at Etsy!