This giveaway is now closed. Thanks to all who entered. Congrats to the following winners:
2 Plan to Eat 1 year memberships: 101 Amy, 176 Martha
1 What's Cooking with Kids book: 27 Jessi
2 Plate to Pixel book: 36 Jo, 159 Chacoy
4 Pleated Poppy gift certificates: 31 Catherine, 147 Karen, 165 Meg, 127 Kitter
It's that time of the month where I get to share Make and Takes sponsors and their really cool products with you, just in time for a little fun this summer. There's a theme of food this month, tied in at the end with accessories to make you look fabulous while cooking!
First up is the meal planning madness from Plan to Eat. This program is the perfect way to help plan meals for your family in an easy organized method. They do it all for you, it couldn't be simpler. There is even a mobile app to help you while you're shopping, complete with your shopping list and recipe. Two of you will win a 1-year membership. But the best part, they want everyone to try it for 30 days free! Get to know their program and fall in love!
What's Cooking with Kids is up next, with their cookbook that gets the whole family involved. One winner will receive a copy of The Whole Family Cookbook, helping to encourage your little eaters to learn, grow, and cook healthy food. This cookbook ties in nicely with our newest contributor, Sabrena, bringing more sustainability into our homes. This cookbook is all about local and healthy eating, but in a practical "everyone can do it" way! For quick tips and hints on cooking meals, make sure to follow What's Cooking on facebook.
Now that you're ready to plan and cook your meals, it's time to learn how to take amazing food photography with Helen Dujardin of Tartelette and her new book, Plate to Pixel. It's all about digital food photography and styling to make you look like a star. If you're a blogger or want to start up a new career, this book tells all on how to get the best photo of your food. It's the kind of photos where you want to reach right in to the photo for a bite, and she shares all the tricks to make it happen! And 2 winners will receive a copy of Plate to Pixel, so get your cameras ready.
And last, but certainly not least, is The Pleated Poppy. She's going to accessorize you while you're cooking and photographing up a storm! 4 winners will receive a $25 gift certificate for anything in the shop. There are her famous posy pins, oh so ruffly scarves, super cute zipper pouches, and lovely little covered notebooks. Every woman needs a little ruffle in her life, right?!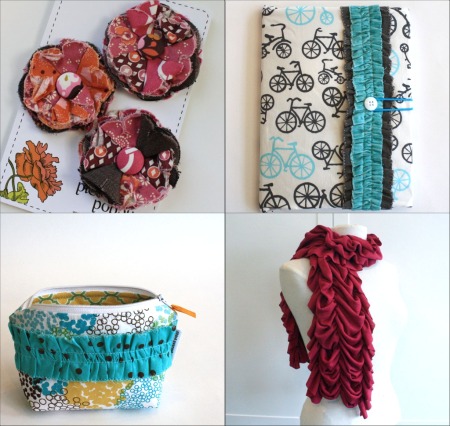 ______________________________________________________________
Giveaway Entries: For your chance to win one of these 4 lovely prizes, leave a comment on this post by Thursday June 30th @ midnight. I'll announce the winner chosen from random on Friday morning July 1st. Good Luck!
Extra Entries – enter a new comment for each extra entry telling what you did: