As it is approaching Summer, the sad winter clothes in my closet need to go. I browse through my walk-in closet, if you can call it that, and look over my clothes. What a mess! Why is it that I must keep the clothing I wore as a teenager, or the "skinny" clothes I will someday fit into again, or when I was pregnant – yes there are maternity clothes in my closet still after 2 years. I promise this stuff looks cuter on me than in my closet. But I have a dilemma. If I get rid of these old clothes, the ones that I haven't touched in atleast 12 months, what will replace them? My closet will be sooooo lonely, because more than half needs to go.
Just the other day, my hubby and I got a babysitter for the kiddies, so we could hit the Mall. For all the stores we ventured, I did find one cute little ditty from the Gap (I know, how could I buy horizontal stripes, but it is actually very flattering) and a pair of cheap shoes from Forever (Young Shoes). But, with sad success, we did have a fun date night and ate at CPK.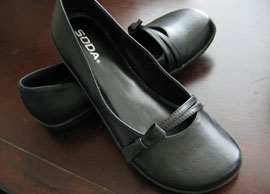 We need help. Here goes me again with the stripe shirt and black, pretty much plain, shoes. Look at my closet and all those stripes. My sister laughs at me all the time, never getting farther than plaid or the solid black tee. Were do you all shop for clothes? I know you are all hidding the goods so that you are the only ones wearing them. My store staples are Gap, AE, and Old Navy. HELP. I need to step out of my comfort zone and be a little more funky and fresh. It is a new summer and I am trying to get skinny and I hope to not be prego for atleast another 6-8 months!! I've got some time to look cute, but I need your help!