Thanks again to my baking friends Becca and Jenn, I have been enjoying another one of their great recipes. French Peasant Bread, but with a twist, I add Rosemary. It makes it taste just like the hot steamy delicious Macaroni Grill Bread. It's super easy to make, even using yeast, and perfect to dip into your Olive Oil and Vinegar.
Rosemary Bread Recipe
1 packet dry yeast (or 2 1/2 tsp)


2 c. warm water

1 T. sugar

2 tsp salt

4 c. flour

1-2 tsp. fresh Rosemary plus more for topping

Olive Oil, Corn meal, Melted butter and salt

UPDATE: Thanks to Shanna for helping those who live in lower elevations make this recipe work. In the South, bakers should add 1 and 1/4 cups extra flour to make it turn out just right.
Dissolve yeast in the warm water and sugar. (I like to buy yeast in a large package and then store it in a plastic container and keep in the freezer. It lasts forever. OR if you don't make bread that often, just buy the yeast packets.) Add flour, salt, and 1-2 tsp Rosemary and stir until blended, do not Knead!! Cover and let rise for 1 hour or until double in size. If you have a Bosch Mixer, I keep the dough right in there with the top lid on, it's nice and moist in there. Or simply keep it in the mixer bowl and cover with a moist cloth to raise.

Side Note: I also like to grow Rosemary. It's an easy herb to grow and is yummy for lots of recipes. I love having it on hand.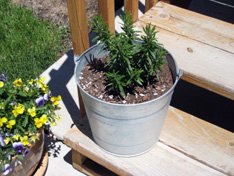 Remove dough. It will be sticky. I like to put shortening or oil on my hands for taking out the dough and shaping it. I think it works better than flour hands. Place it in 2 rounds on a cookie sheet lightly coated in oil and sprinkled with corn meal.OR you can place it on your silicone baking mat with no oil. Cover with a towel or greased plastic wrap. Then let it rise another hour.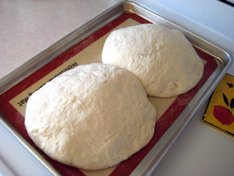 Brush each round with melted butter and lightly sprinkle with more Rosemary and salt, I used this great Sea Salt grinder from Costco.Bake @ 425 for 10 minutes, then reduce temp to 375 for 15 minutes more.
Cool slightly, then cut into nice size bits or rip it apart and dip in a bowl of olive oil and balsamic vinegar. This bread can't be beat! It is soooo delicious and a really easy bread recipe. If you've never made bread before, Rosemary Bread is a great one to start with.