I love my Mother. I love all the Mothers in my life. I am very blessed to have the all the mothers that surround me. I am dedicating this blog post to all the mothers in my life. May there be joy and love for you always.
Karen: My mother is the best. She cooks, sews, and cares for me and my kids. I have learned so much from her. I give her all the credit for my talents. I can call her at any moment and she is there to help me with what ever problem or challenge I have. One of my favorite things she has done for me is sew my wedding dress. I told her what I wanted and it appeared exactly how I wanted it on my wedding day. She is also a wonderful Grandma to my kids and makes them feel special. Here she is baking my birthday cake last year, still helping. Thank you Mom for all that you do. I love you.
Jani: She is Jordan's mom and the greatest Mother-in-law a daughter could have. She loves me and my family dearly and is always there to hear about what the kids did, we love to brag. I was with my friend one time in the car and on the phone with Jani, and at the end of the phone conversation, I said, "love you". My friend dropped her jaw and said, "You tell your mother-in-law that you love her?" It was then that I realized what a great Mother-in-Law she is, that we can say we love each other.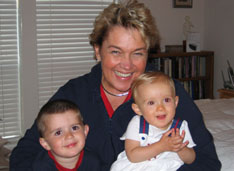 My Grandmas: Grandma Passey and Grandma Holt. My Grandmothers have passed on , but are still thought of and loved dearly.
Jordan's Grandmas: Meema and Grandma Lil. We love them both and wish them a great Mother's Day!
Have a Happy Mother's Day. I hope you receive all the love in the world.