Brisk fall mornings call for a hot breakfast. We rely on oatmeal many mornings, but sometimes we like to mix things up with a quinoa breakfast bowl instead. We love this apple cider quinoa – it's sweet and flavorful, and super-simple to make. The protein-boost from quinoa makes this breakfast filling, too.
Apple Cider Quinoa Breakfast
Serves 2 (can be easily doubled!)
Ingredients:
1/2 cup quinoa
1 cup apple cider (or apple juice)
1/4 teaspoon cinnamon
Toppings: diced or grated apple, chopped nuts, maple syrup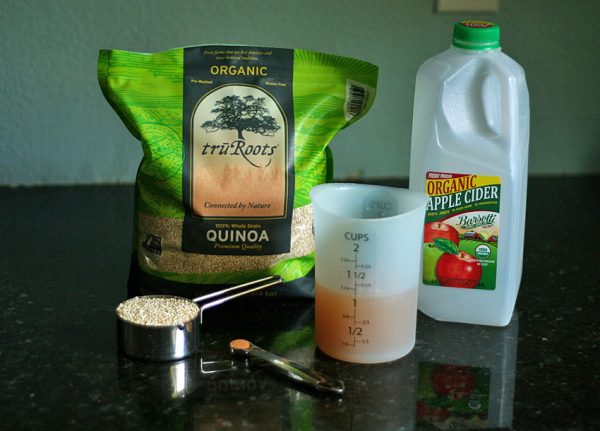 If your quinoa does not come pre-washed, give it a good rinse in a mesh strainer before cooking. Add the quinoa, apple cider, and cinnamon to a pot and stir to combine.
Bring to a boil, then cover and turn the heat down to low. Simmer for 15 minutes, then let rest with the lid on for another 10 minutes.
While the quinoa is cooking, prep and gather your toppings. We like diced apple, chopped pecans, and just a little drizzle of maple syrup. You could also add raisins or dried cranberries, shredded coconut, or another chopped nut of your choice.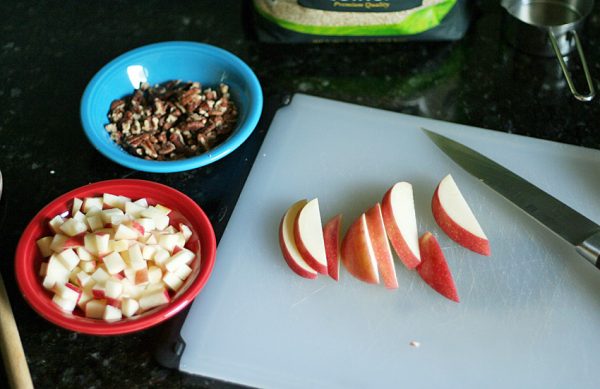 After the quinoa has rested, fluff with a fork and serve! Cooking the quinoa in the apple cider makes it quite sweet, so we only add the tiniest bit of maple syrup for flavor. My older daughter likes to add a splash of milk, too.
I love that this recipe is simple enough for my girls to make, plus it fills them up for the whole morning. Hope you enjoy one of our favorite fall breakfasts!