Cake Mix Cookies are the best cookies to make for any occasion, especially when you are short on time. They are delicious, easy to make, and always a BIG hit! I probably make these too much. Jordan is always begging for good ol' fashioned chocolate chip cookies. I use the Toll House recipe for those. Only four ingredients for the yummiest cookies ever!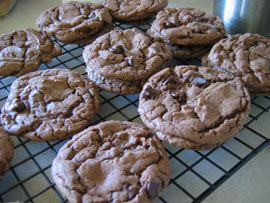 Cake Mix Cookies:
1 box cake mix – any flavor, I love to use the German Chocolate flavor
2 eggs
1/2 cup oil – vegetable or canola
chocolate chips – I like to use atleast 1/2-3/4 of the bag
Mix all of the ingredients together. Bake at 350* for 8-10 minutes. I know they are done when I go to pull them out and they don't jiggle.
Here are my favorite cookie making tools that help make them perfect:
I love to use a Silpat when I bake cookies too. I don't have to fuss with the messy cooking spray, and the cookies NEVER stick to the pan!
I use a small cookie scoop, like an ice cream scoop, but smaller, for getting the cookie dough onto the pan. It helps me get even sized cookies every time. My parents always used the two spoon method and that was always the part I did not like to help with. I love the cookie scoop.
My sweet niece Rachel made these into cookies sandwiches and posted them on her blog. She used the same recipe, but added yummy frosting in the middle. The cookies are much smaller rounds and make perfect sandwiches.
Have fun making Cake Mix Cookies, and try out the cookie tools to make them perfect.
Find more cookie recipes here:
SaveSaveSaveSaveSaveSaveSaveSaveSaveSaveSaveSaveSaveSaveSaveSaveSaveSaveSaveSaveSaveSave