I have been baking up a storm the entire month of December, one of the many reasons I love this time of year. I have made cookies, candies, breads, cake, etc. but I am not finished yet. I am still making last minute treats to give out as gifts to neighbors, friends, and family. I make peppermint bark every year, but this year I added in a new bark recipe, chocolate hazelnut bark.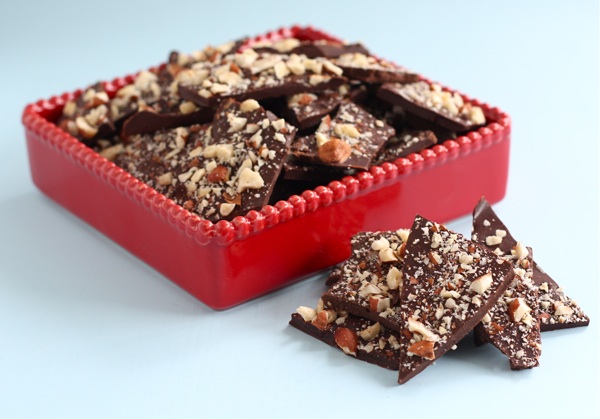 I love making bark because it is so easy and everyone loves it. This chocolate hazelnut bark has a secret ingredient-Nutella. After the chocolate is melted, I stir in hazelnut extract and a big scoop of Nutella. It melts right in with the chocolate and creates a dreamy bark after it hardens. I top the bark off with chopped hazelnuts and break it up into pieces. Place the bark in a cute little tin, holiday gift bag, or a festive plate and give the gift of chocolate hazelnut bark this year. And I won't tell if you save a few pieces for yourself:)
Chocolate Hazelnut Bark
Ingredients: 
2 pounds dark chocolate
1/2 teaspoon hazlenut extract
1/2 cup Nutella
1 cup finely chopped hazlenuts
Method:
1. Line an 11-by-17-inch baking sheet with parchment paper and set aside.
2. In the top of a double boiler, melt chocolate, stirring constantly.
3. Stir hazelnut extract and Nutella into the melted chocolate. Remove from heat, and pour the mixture onto the prepared baking sheet; spread evenly. Sprinkle with chopped hazelnuts.
4. Chill until firm, 25 to 30 minutes. Break into pieces, and serve. Store in an airtight container in the refrigerator for up to one week.
More holiday treat recipes:
Chocolate Dipped Candy Canes
Soft Gingersnap Cookies with White Chocolate Chunks
Homemade Marshmallows
Chocolate Mint Chip Cookies
Pomegranate White Chocolate Chunk Cookies