I love homemade bread, but sometimes I don't have time to make them from scratch. When I am running short on time, but still want the taste of homemade rolls, I turn to frozen bread dough. They are easy to make and taste amazing, you'll love these Easy Garlic Bread Knots.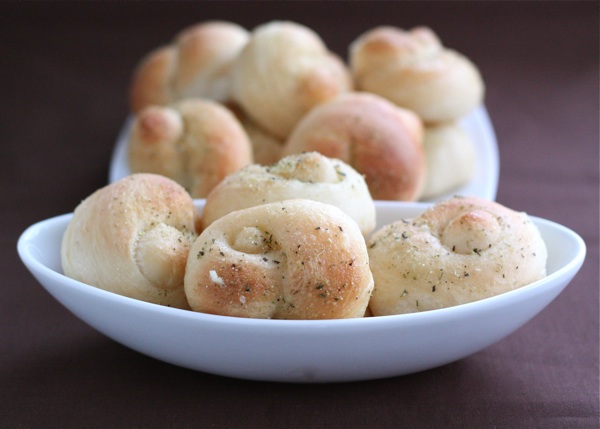 Garlic knots are fun to make and eat. I love tying the rolls into knots, it is fun playing with the dough. This is also a fun job for the kids. After the rolls are tied into knots and doubled in size, you brush them with melted butter and sprinkle each knot with freshly minced garlic and Italian season.  Pop them in the oven and you will be eating hot, fresh garlic knots in about 20 minutes.
Serve these rolls with your favorite pasta dish, soup, or salad. They go great with any meal. If you are looking for an easy way to jazz up your dinner rolls, try Easy Garlic Knots. No one will ever know they aren't made from scratch-they are that good!

Easy Garlic Knots
Ingredients:
12 frozen bread dough/rolls
3 tablespoons melted butter
2 cloves garlic, minced
1/2 teaspoon dried Italian seasoning
Method:
1. Thaw Rhodes rolls. Roll each dough ball into a rope-about 8 inches long. Tie in a knot. Place on greased baking sheet and let rise until double in size, about 30-45 minutes.
2. Preheat oven to 350 degrees F. Gently brush each roll with melted butter. Sprinkle rolls with minced garlic and Italian seasoning.
3. Bake for 15-18 minutes or until rolls are golden brown. Serve warm.
Makes 12 rolls