This Chicken Pesto Pasta Dish could not be any simpler and it is oh so yummy! It has 3 of the best ingredients out there: chicken, pesto, and pasta. Oh wait, don't forget the parmesan cheese!! This is a family favorite your crew is sure to love too. It whips up in a flash, you'll have dinner ready in no time.
Chicken Pesto Pasta Dish
Ingredients:

3/4 cup heavy cream
1/4 cup pesto – Homemade Basil Pesto
1/4 cup grated parmesan
salt and pepper to taste
1/2 box cooked pasta – we've got bowtie
3 cups cooked chicken shredded or cubed
Makes 4 servings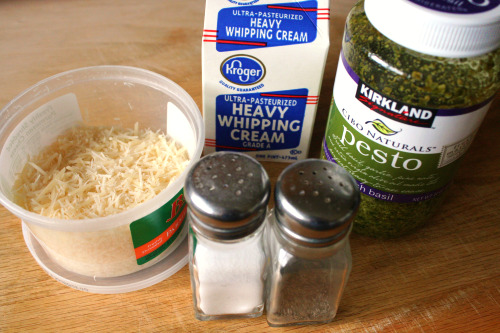 Method:
Cook and prep your chicken and pasta to your liking and combine in a bowl. Set aside.
For the sauce, bring your heavy cream to a boil, stirring constantly, it will come to a boil fast. Let this boil on medium heat for 4-5 minutes until it thickens up. Add your pesto and stir. Add your parmesan and stir until most of the cheese is melted in the sauce. Add your salt and pepper, not too much as the pesto and cheese have a lot of flavor by themselves.
Pour your pesto cream sauce over the chicken and pasta, and stir to combine.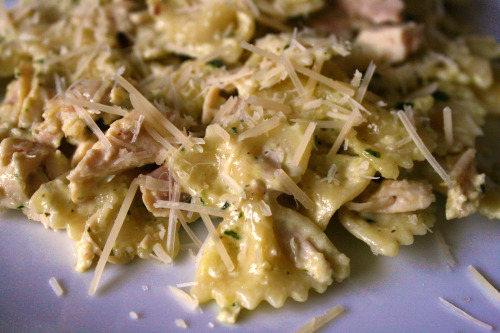 Now it's ready for dinner. See what I mean, soooooo easy! Just watch, you'll be adding pesto to everything you make! And cream, and cheese!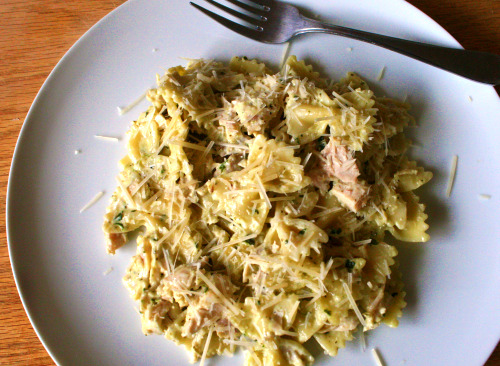 More Easy Recipes for Dinner:
Easy Taco Soup for Dinner – Everyone in our family loves this recipe for taco soup. It's great for big groups too, if you're hosting another family. Pair with with some chips and sour cream for toppings. I love corn chips or tortilla chips.
15 Delicious All-In-One Dinner Ideas – Deliciously simple all-in-one dinner ideas come in handy when you're trying to feed a family. They are a one pot meal your whole family will love!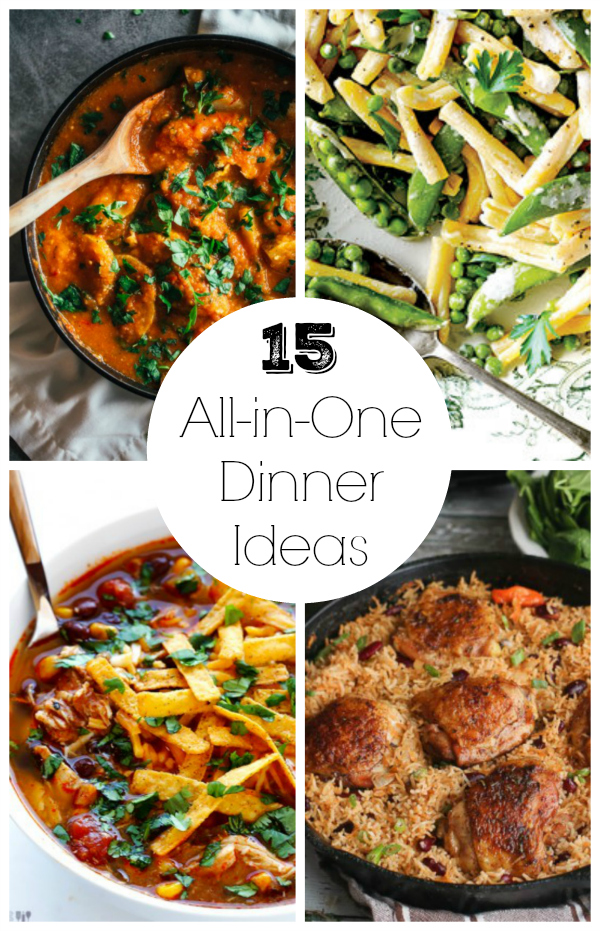 Easy Make-Ahead Chicken Enchiladas – We've been making these enchiladas for years! With only a few ingredients, you'll have dinner ready in no time.