I love a good pie crust, it can make or break your pie. So I have this fabulous recipe for a homemade graham cracker crust that is easy to make and yummy to eat! Once you have this recipe, it can be used with all kinds of delicious desserts. Add in pudding, ice cream, or your favorite fruit filling!
Homemade Graham Cracker Crust
Watch our recipe video:
Ingredients:

1 ½ c. graham crackers – 1 package of 9-10 crackers
6 Tbs. butter, melted
1/3 c. sugar
½ tsp. cinnamon
Method:
1. Crush your graham crackers until really fine. I like to let my kids help with this part, adding them into a sealed plastic bag and crushing them with a rolling pin.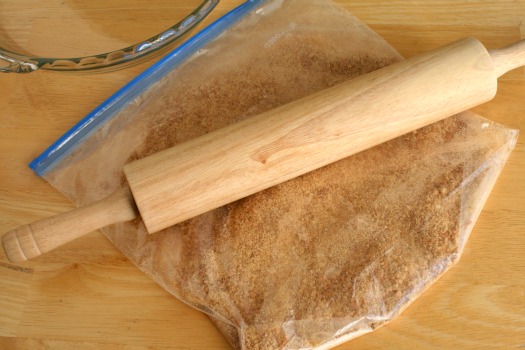 2. Mix all the ingredients together.
3. Using a the back of a spoon, press your mix into a pie pan. Make sure to press it up the edges as well, making it nice and even all across.
4. Bake your pie crust for 7 minutes in a pre-heated oven of 375°.
Pie filling ideas:
Cheesecake
Oreos with ice cream
pudding
fruit and whipped cream
Fill your crust with slightly melted Pumpkin Pie Ice Cream and then re-freeze it. You may need to thaw it out a little before cutting and serving. (I love Dreyer's 1/2 the fat ice cream, but I seem to eat twice as much!)
More recipes for this Graham Cracker Crust: