Peaches are so good right now, I can't get enough. I eat them morning, noon, and night! I love eating them plain, but I also enjoy creating peach recipes. A few of my favorite peach recipes are Peaches and Cream Stuffed French Toast, Blueberry Peach Crumble, and Peach Salsa. My new favorite peach recipe is this simple Grilled Peach Salad.
I drizzle the peaches with sweet honey and grill them until soft, tender, and juicy! I cut the peaches in slices and add them to mixed greens. For added flavor, I toss in crumbled blue cheese, pecans, and red onion. I dress the salad with a simple balsamic dressing, but feel free to use your favorite dressing.
Make this Grilled Peach Salad before peach season is over! It's a great way to enjoy summer peaches!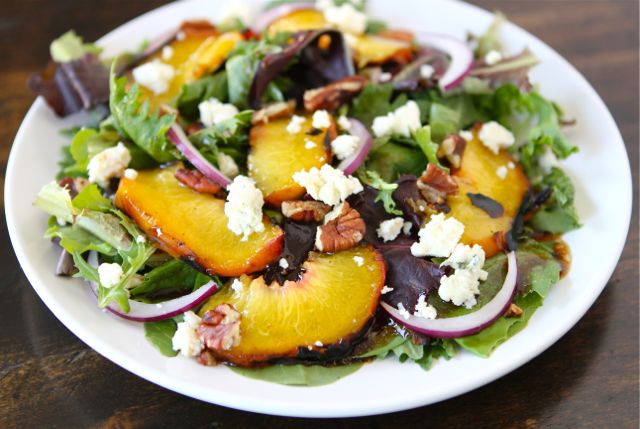 Grilled Peach Salad
Ingredients:
Peaches
Honey
Olive oil, for brushing the grill
Mixed salad greens
Blue cheese
Pecans
Red onion slices
Balsamic dressing or dressing of choice
Method:
1. Cut the peaches in half and remove pits. Brush the peaches with honey. Brush grill with olive oil and heat to medium-high heat. Place the peaches on the grill, cut side down. Grill the peaches until they are softened and grill marks appear, about 4 to 5 minutes.
2. Let the peaches cool to room temperature and then slice. Arrange the peach slices over a bed of mixed salad greens. Top salad with crumbled blue cheese, pecans, and red onion slices. Drizzle salad with balsamic dressing, or dressing of your choice.
Mix up this seasonal salad for a delicious lunch this summer. It's the perfect way to share the fruits of the season! Enjoy your peaches!
More salads for summer:
Easy Italian Pasta Salad with Italian Dressing
Arugula Salad with Bacon Vinaigrette
13 Make-Ahead Mason Jar Salads
Healthy Potato Salad with Creamy Pesto