During the spring and summer months I love eating salads. I try to mix up the ingredients so I don't get bored with the same old salad every day. One of my new favorite salads is spinach salad with mango, avocado, jicama, and pepitas.
This salad is very refreshing and fun for spring and summer. The mango adds a burst of bright color and a sweet juicy flavor while the avocado chunks add a nice creamy texture. The jicama and pepitas (pumpkin seeds) give the salad a nice crunch. I like to finish the salad off with a couple of squeezes of fresh lime juice. If you want a little more flavor, feel free to use your favorite dressing. A cilantro lime dressing goes nicely with this salad.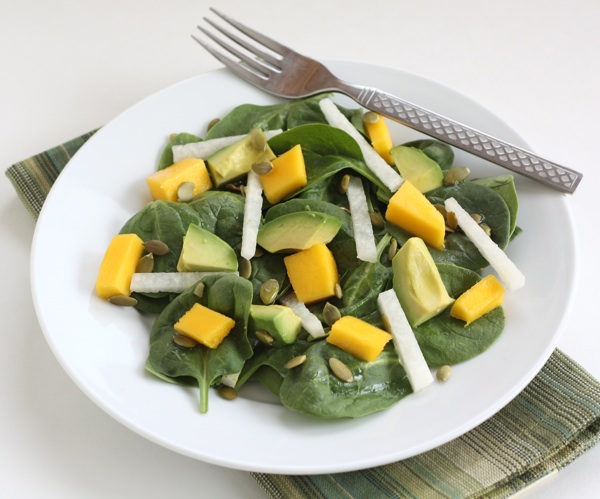 Spinach Salad with Mango, Avocado, Jicama, and Pepitas
4 cups fresh spinach
1 cup chopped mango
1 cup chopped avocado
1 cup chopped jicama
1/2 cup pepitas (pumpkin seeds)
Juice of 2 fresh limes or dressing of your choice
1. In a medium bowl add spinach, mango, avocado, jicama, and pepitas. Toss. Squeeze fresh lime juice over the salad or drizzle with your favorite dressing. Serve chilled or at room temperature.
Makes 4 side salads