Grass really does grow like a weed. After about 4-5 days, the Easter Grass we planted almost 2 weeks ago was coming up fast. We watched it everyday, watering it and giving it some love.
We've really enjoyed the egg carton baskets, but my favorite is the glass jar above. You can see all the insides of the dirt and grass.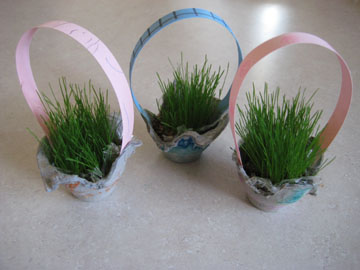 We've even given the grass a trim and pulled a weed or two. Next year I may try growing wheat-grass, as I've heard it grows even faster and taller. Hopefully the Easter Bunny will put a few treats into these little basket this Sunday. Here's Hopping!