Ants are interesting little creatures. I know I've stepped on my fair share. And especially as of late, as these little bugs have been creeping all around our yard. So to become a little less of an Ant Bully, we decided to to find out more about ants for story time. Here are 2 great books about how to treat a tiny little ant, keeping your feet off it's back.
We started with The Ant Bully by John Nickle. It's all in the title and the book's front cover! This fun book has also been made into a movie.
Then we read Hey, Little Ant by Phillip M. Hoose. The last page of this book stops with the child's foot in the air and you get to decide what the boy did next. What would you choose to do?
Ants on a Log
After we read these books, we made the classic snack Ants on a Log. I can remember eating this snack as a child and imagining the ants marching along their log. All you need for this tasty treat is celery, peanut butter, and raisins.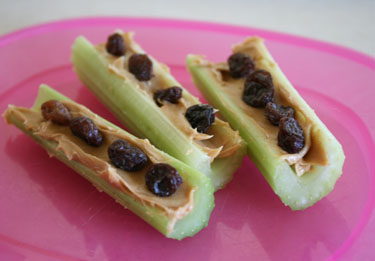 I guess we decided to eat ants instead of step on them! But I do have a better appreciation for them and what amazing creatures they are. I think my kids and I won't be as quick to step on their little ant hills anymore.
SaveSave