We are only a month into school and already lunch options are too repetitive. I'm always looking for variety, for myself in making lunch and my kids in eating it. So I've been adding these yummy snacks to their lunches and they are a hit – Cream Cheese & Jam Cracker Snacks! We learned this delicious snack-attack option from our Grandma Jani years ago. It's one of our favorite for the perfect snack. These make a great option for switching up from the same ol' pbj! Or these would be great to serve for an appetizer platter on game day as well… Go Hawks!
I've partnered with RITZ and their new Fresh Stacks for today's snack! These new packs are the perfect size for a quick snack. Now you don't have to open up an entire roll of crackers, letting them get stale. With these crackers in a shorter smaller pack, they are the perfect size for on the go snacking, just what I'm always looking for!
Cream Cheese & Jam Cracker Snacks
RITZ crackers – 2 crackers per snack
cream cheese
jam – any flavor
Spread cream cheese on a cracker and add a layer of your favorite jam. We love strawberry, it's a delicious combo. Add on a second cracker to make it like a sandwich. Place them in your lunch container and enjoy!
These are buttery and flaky, with yummy cream cheese and tart jam. Perfect combo! These come in Original, Whole Wheat, and Everything flavors, which gives you more snacking options. You could put a veggie cream cheese on the Everything flavored crackers and sandwich those up for lunches as well!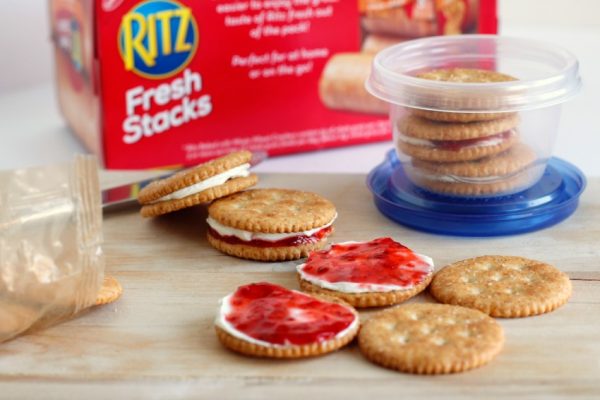 * Thanks to RITZ for sponsoring this post. All recipes and opinions are my own. Be sure to follow them on facebook, twitter, and pinterest for more snack-attack inspiration!
Check our more school lunch ideas here:
SaveSaveSaveSave