At first, this title may sound like I am describing an orange pair of leather shoes. But I am definately not. Apricot Leather is a large fruit roll up. It's made of yummy apricots, honey, and lemon juice. Then it gets dried in the sun. My mother has an apricot tree in her back yard and has been making this for years. She now has a fruit dryer that she drys the leather in but I dried mine in the sun. It's a perfect healthy treat and my kids gobble it up.
Apricot Leather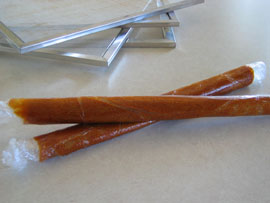 Ingredients:
2 cups blended apricots
1 Tablespoon lemon juice
2 Tablespoons honey
This makes 2 roll-ups depending on the size of tray
Method:
First cut the apricots in half and take out the pits. Then blend them smooth in a blender. Next add the honey and lemon juice and give it another spin in the blender.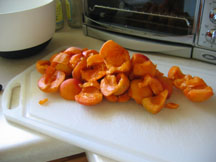 Now prepare a tray with plastic wrap along the bottom covering it. I used my Mother's drying racks that look like window screens. Next, pour the mix onto the plastic wrap and smooth out with a spatula. You want it to be about 1/8″ thick.
To ensure that bugs don't get stuck on my leather, I put another screen rack on top and taped them together. If you don't have something like this, find something that would keep out the bugs, but allow air to come in and the sun to hit it.
Now take the trays outside on a table to dry out. I let them stay out for 24 hours. I could have done a few hours less for a more moist leather, but I like it firmer. Then take them inside and roll up the plastic wrap. Now you have delicious fruit leather that you can munch on all summer, or for the next week, it doesn't last long.
Have fun making Apricot Leather, but limit the intake or you could be spending some time in the bathroom – apricots can run right through your system.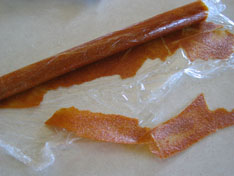 More Healthy Treats to Enjoy:
If you're looking for more healthy treats for your family to enjoy, try these too!
Healthy Frozen Yogurt Fruit Dots
Yogurt and fresh fruit become something special when you make them into these frozen fruit dots!
ABC Smoothies
These delicious smoothies make for a great after school snack!
Healthy Chocolate Chip Cookie Dough Balls
The kids will think they're eating cookie dough, and you'll know they're eating something healthy!
SaveSave
SaveSave
SaveSaveSaveSave