WEEK OF TREATS – DAY 2
I'm giving a few of these Cookie Dough Log Rolls to neighbors as gifts this Holiday. You can give yummy homemade cookies, but don't have to bake them right away. They're a perfect treat for on the go or as a midnight snack too. With these dough rolls, you can have cookies any time you want!
Supplies for Cookie Log Rolls:
cookie dough – your favorite kind
wax paper
tin foil
baking instructions written out
ribbon
Mix up a batch of your favorite cookie dough. Shape into a log roll. Wrap in wax paper and tin foil. Then give to a cookie lover with the instructions to bake them.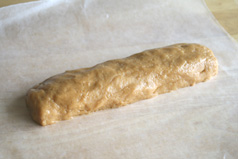 They can be put in the fridge for a few days or frozen to pull out and bake up later. Yum! Homemade cookies anytime!