I am looking forward to apple picking season! Even though we eat apples year-round, there is something special about picking fresh apples in the fall. We love making this sweet cream cheese apple dip for parties or play dates – or Friday afternoons! It's one of my go-to potluck recipes that is a hit with kids and adults, and someone always asks me for the recipe. Luckily, it is so simple that I have it memorized for easy sharing!
Cream Cheese Apple Dip
Cream cheese apple dip takes only 4 basic ingredients and comes together in a flash. Slice up a few apples and enjoy! Tart varieties of apples are especially tasty with this sweet dip.
Ingredients:
8-oz package of cream cheese, softened
2/3 cup brown sugar, packed
1 teaspoon almond extract
2 teaspoons vanilla extract
Method:
Combine all ingredients in a medium bowl and mix until creamy. Chill for a few hours, or overnight, to allow the flavors to meld. Enjoy with sliced apples or other fruit.
Optional: Stir in a handful of chopped nuts or mini chocolate chips.
An electric hand-mixer makes quick work of this recipe. In fact, this is a great recipe for practicing with the hand-mixer. It doesn't splatter much and is easy to mix, especially if the cream cheese is room temperature. My 2-year-old also loves packing the brown sugar into the measuring cup with a spoon. As you can see, my little guy is an enthusiastic helper!
If I'm making this apple dip for a big group, I usually double the recipe. It holds up well in the fridge, if you have any leftover, and I think it tastes even better the next day. This dip also makes a delicious frosting for apple or pumpkin muffins – yum!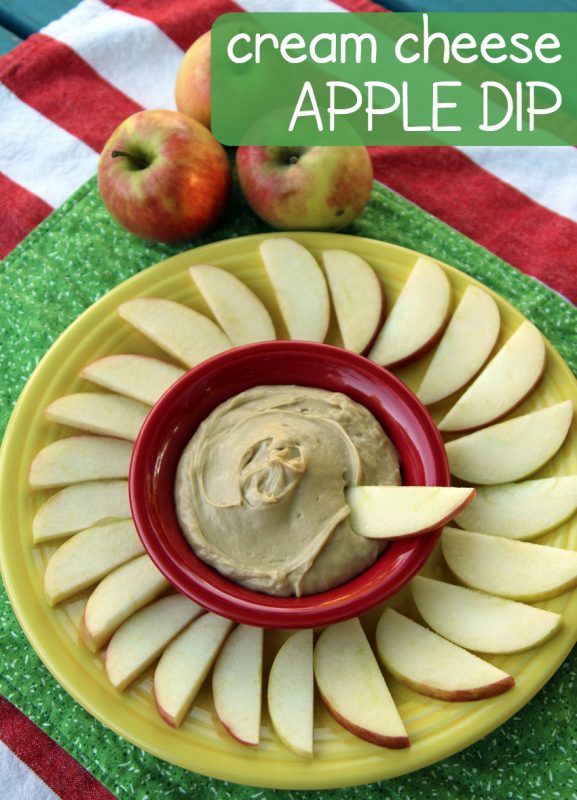 Kids can't get enough dips? Try this chocolate yogurt dip or pumpkin pie yogurt dip for your next snack time.