We've been busy with blueberries this summer season, taking a recent trip east of Seattle for a u-pick blueberry day! It was something that was on our summer bucket list this year and we all loved it. For only $1.50 per pound, we spend an hour picking our little hearts out – in blueberry heaven!
With a big bucket-load of blueberries, we were trying to come up with all kinds of different ways to use them up. I was looking for a yummy dessert and in my freezer I had a puff pastry package just begging to be paired with juicy fresh blueberries. So our Mini Blueberry Tarts were born, mmm!
Mini Blueberry Muffin Tin Tarts
As I'm a huge fan of baking everything mini and inside a muffin tin… these little tarts were no exception. They worked perfectly and tasted oh, so good. Perfect for little ones to help make and bake in the kitchen!

MY LATEST VIDEOS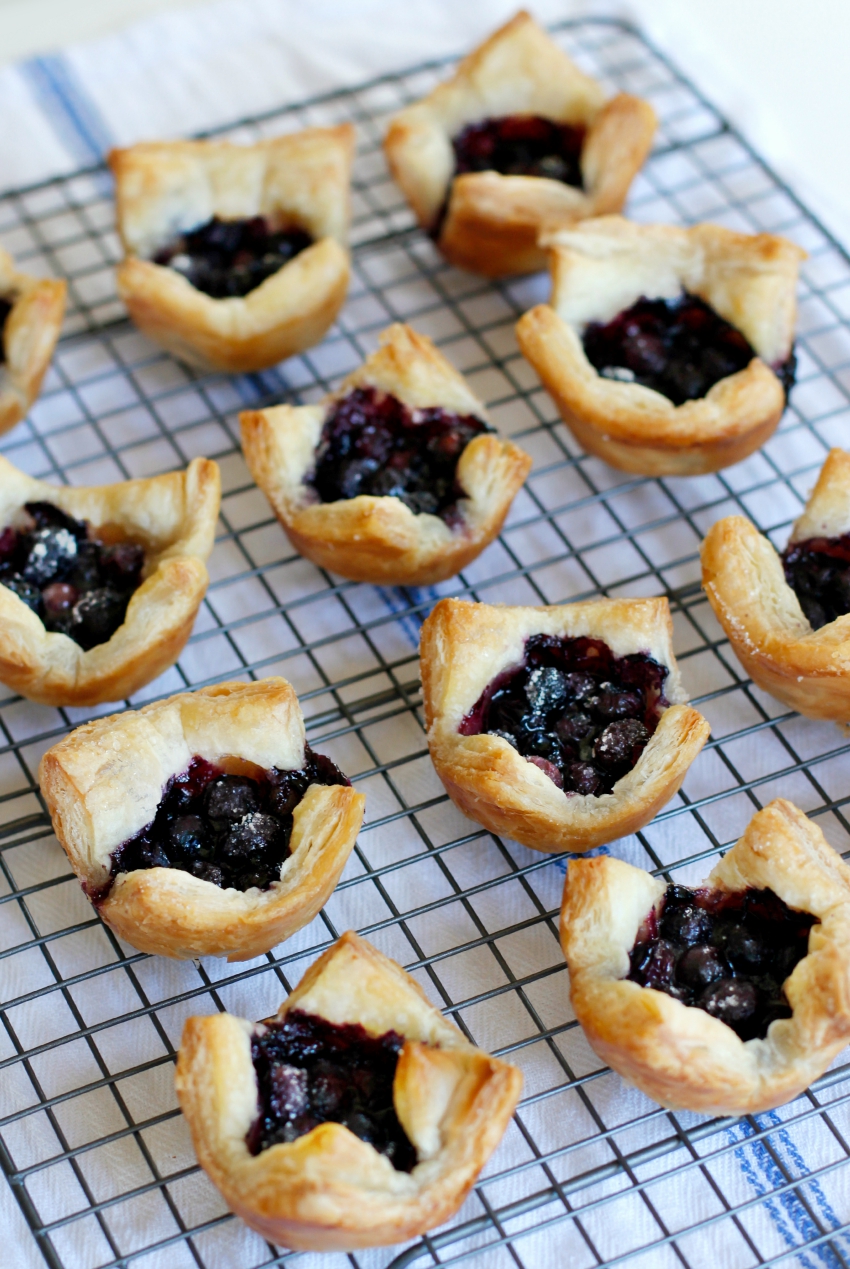 More delicious things to baked in a muffin tin: 
There's almost nothing you can't make in a muffin tin – so much fun! We also love our Apple-Shaped Cupcakes made into an apple shape with a fun muffin tin trick!
Recipe for Mini Blueberry Muffin Tin Tarts:
Ingredients:
yields 18 mini tarts
2 cups fresh blueberries
1 T sugar + a little extra for sprinkling
2 T flour
dash of salt
2 sheets of puff pastry – 1 frozen package usually comes with 2 sheets
5 T butter – cut into 18 small cubes
Method:
Add your blueberries to a small bowl and add in the sugar, flour, and salt. Mix to coat each of the berries and set aside.
Let your puff pastry thaw out (if frozen) for 40-50 minutes on a cutting board. Once thawed, open it up and lay it flat – my package came with 2 sheets. Cut each sheet into 9 square sections, making 18 total. (I baked 12 of these at a time, having 6 left over for the next set to bake)
With your muffin tin, place 1 of the puff pastry squares into the muffin tin section and press it in. Use your fingertips or a fork to add small holes to the center of the pastry to help it avoid forming a bubble.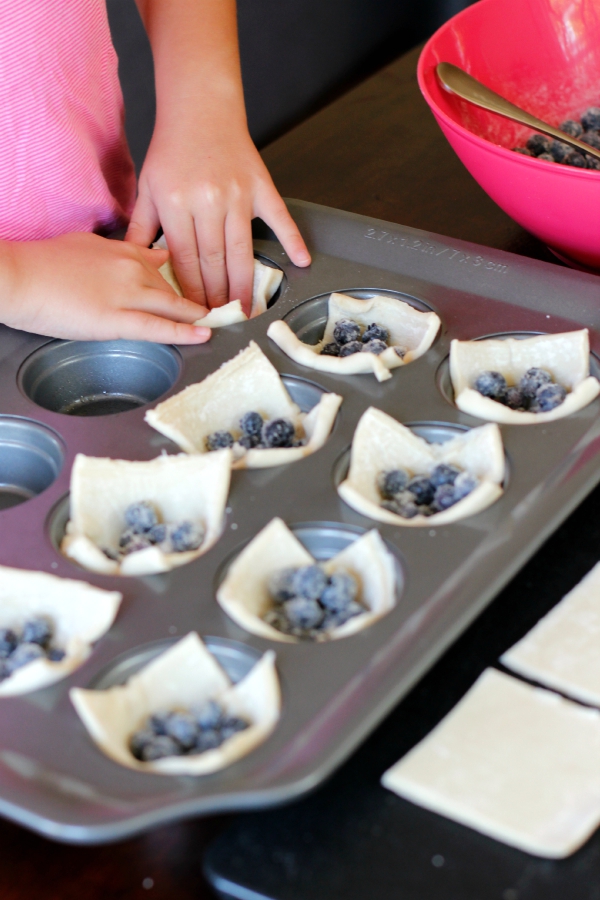 Add a spoonful of blueberry mix to each of the puff pastry sections, about half full of berries.
Add one small square of butter to each of the tarts, and sprinkle one more time with a little sugar – optional.
Bake your tarts at 400 degrees for 15-16 minutes or until the edges are golden brown. Let them cool on a rack for 10 minutes.
You can eat them as is or even add a little dollop of whipped cream or ice cream. Enjoy!
More blueberry recipe ideas!
Red, White, and Blueberry Skewers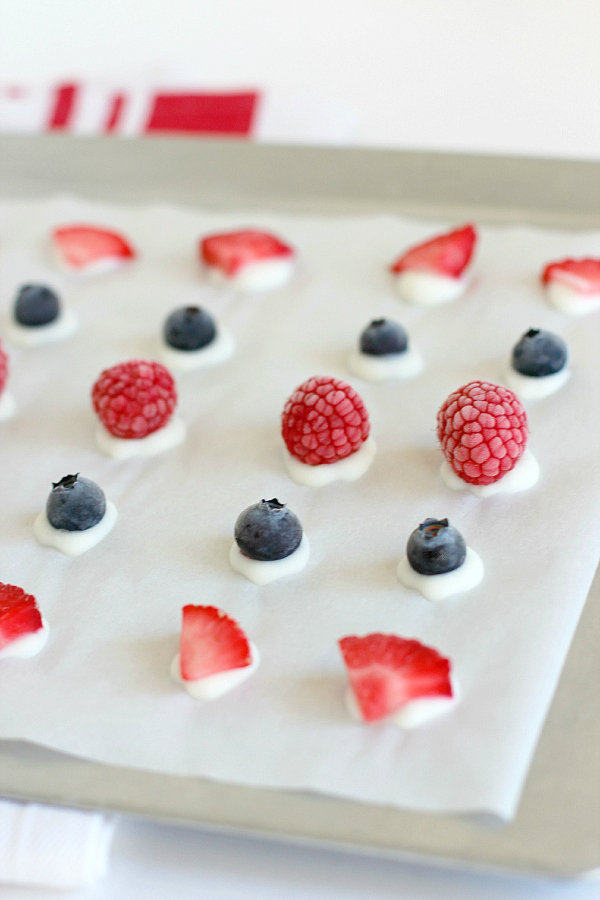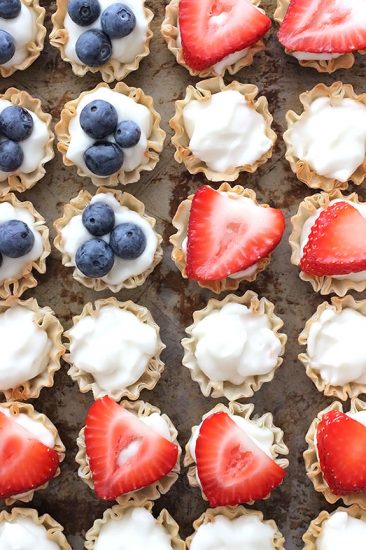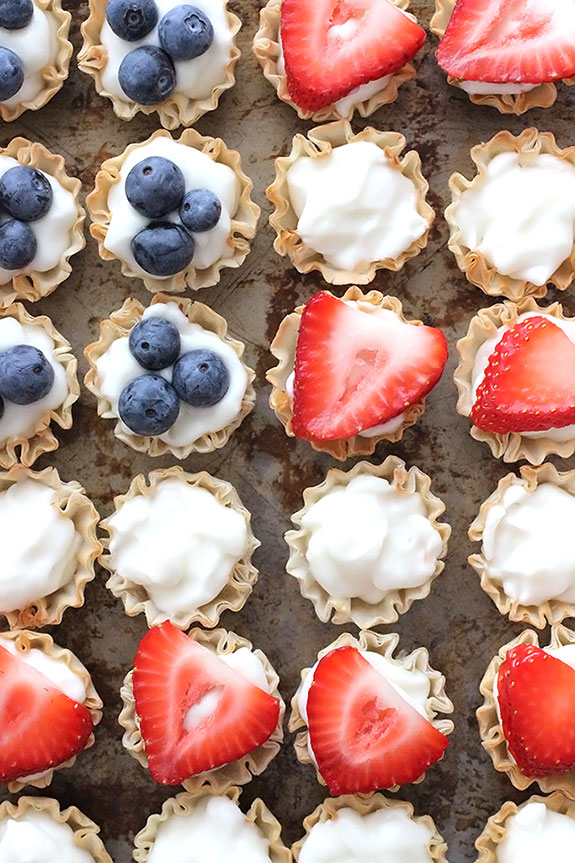 Enjoy your fun summer blueberry treats!