It may be fall, but we are still enjoying summer tomatoes and basil. Our basil plants are on fire. I can't keep up! I made a big batch of pesto and have been putting it on everything, including this Open Face Caprese Pesto Sandwich.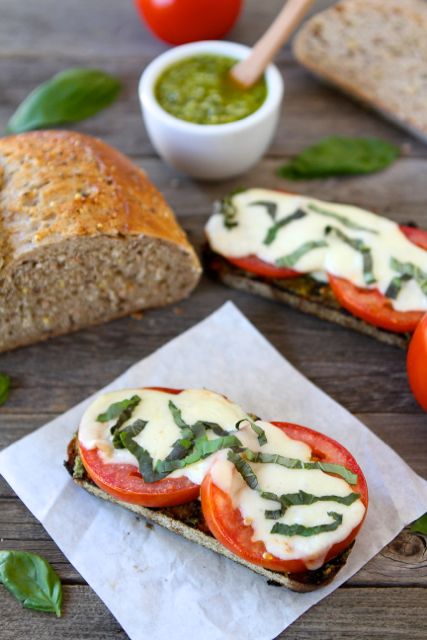 If you are a fan of the classic caprese sandwich, you will love this Open Face Caprese Pesto Sandwich. It is so easy to make and the flavors are divine. You really can't go wrong with grilled bread, pesto, mozzarella cheese, and fresh tomatoes. Kids and adults love this one! These sandwiches are great for a simple lunch or dinner. And you can bring in a little fall by serving roasted tomato basil soup on the side. Enjoy!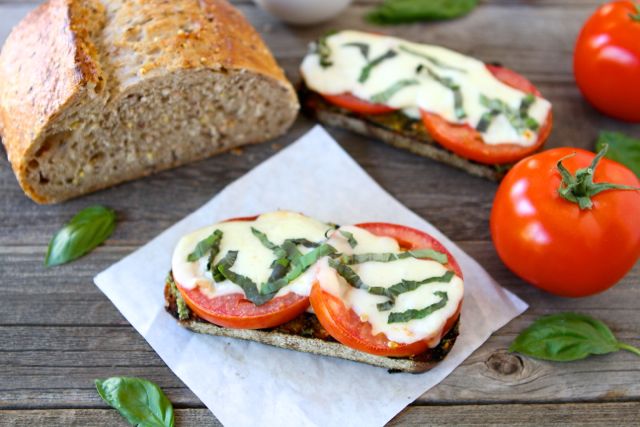 Open Face Caprese Pesto Sandwiches
2 tablespoons olive oil, divided
8 slices (about 1/2 in. thick) crusty Italian or French bread
3/4 cup basil pesto (homemade or store bought is fine)
3 medium ripe tomatoes, sliced
1 pound fresh mozzarella cheese, sliced thinly
1/4 cup finely chopped fresh basil
Salt and pepper, to taste
1. Preheat a grill to medium heat. Brush one side of the bread lightly with olive oil.
2. Lay bread oiled side down on grill and cook until slightly toasted, about 2 minutes. Carefully spread pesto on toasted side of bread. Lay tomato slices on bread to fit, overlapping if needed, then lay cheese slices over tomatoes. Cover grill and cook until cheese starts to melt, about 3-4 minutes.
3. Transfer sandwiches to a platter. Sprinkle fresh basil  over each sandwich and season with salt and pepper, to taste.