Storybook Summer post by Krissy from B-Inspired Mama
Hi, I'm Krissy and so excited to be invited to share come creative fun with you today. And especially about one of my favorite things in the world: children's books!
We go to the library and get a heap of random children's books at least every other week.  There's never much rhyme or reason to our choices.  Some choices don't end up being a great fit for us.  But in last week's collection, we were pleasantly surprised with Questions, Questions by Marcus Pfister.
Answer All Those Questions, Questions
Questions, Questions features simple rhyming verses that ask big questions about the natural world and its' mysteries.
"How do birds learn how to sing?
What brings summer after spring?
What turns the leaves from green to brown
and sends them floating gently down?"
It was fun to read and talk about the science and wonder behind some of the questions.  Even more fun was spotting the small sparkling foil element that Pfister added to each of his colorfully printed illustrations.  Here's how we created our own…
Supplies needed:
kids craft paint (we used neon tempera)
cups for paint
course sponges
scissors
paint brushes
aluminum foil
glue
poster board or cardstock
Step 1: Cut sponges into the shape of ocean waves and fish.
Step 2: Paint one side of the sponge shapes with paint.  We painted more than one color on a shape to give a more interesting effect.
Step 3: Press the sponge, painted side down, onto the poster board. Lift up to reveal your stamped image.
Step 4: Repeat, overlapping fish and waves, until you are satisfied with your colorful ocean scene. Allow to dry.
Step 5:  Once the paint is dry, cut or tear your foil into the shape you would like and glue it on your painting.
The kids loved creating these so much, and the outcome was beautiful.  I think they will be framed for hanging in their bedrooms.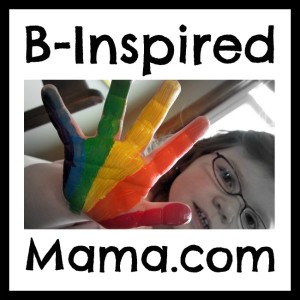 I'd love to have you visit me at B-Inspired Mama.  You'll see that we do all kinds of kids arts and crafts and love being creative in the kitchen, too.  And if you get a little mommy break, try some of these easy diy projects or meet some new mommy friends.  And if your kids get a chance to read Questions, Questions and make some sea life art, come let me know how you like it!
Krissy is a former art teacher turned full time mama of 3. Blogging at B.Inspired Mama allows her to connect other moms with simple ideas for kid-friendly arts and crafts, easy recipes, and preschool learning fun.
SaveSave