This giveaway is now closed. Thanks to all who entered. Here are the winners (I'll contact you for details):
Richard Scarry's Busytown: #517 Jenn
The Gathering of Friends Cookbooks: #12 Courtney
Klutz Book Bundle: #663 Lori A.
Park City Ski Tickets: #722 Melissa
Hearthsong Potter's Wheel: #894 Lauren S.
Cuisinart Rice Cooker: #706 Jenny
Crocs Shoes: #34 Rachel
LEGO Set: #577 Kristin
The R House Jewelry: #420 Carissa
Adobe Photoshop: #431 Krystal
What an amazing giveaway we have today! 10 different companies have come together with 10 fun prizes for 10 fabulous winners! Hopefully winning one of these will help you cross off someone on your Holiday gift giving list. So let's get started!
2 Cookbooks from The Gathering of Friends. Volume 1 & 2 will be yours, helping you host a gathering of friends at your home. Each book is full of delicious recipes, ideas for decorating your table, and a supply list of all the ingredients you'd need to make your next party a success.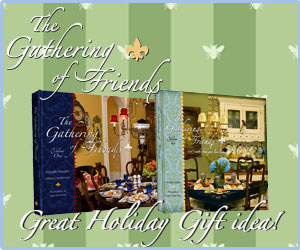 First Potter's Wheel from Hearthsong. This child-size potter's wheel comes with the machined wheel, 2 extra pounds of clay, shaping tools, and paint brushes. You'll be able to shape the air dry clay into vases, pots, and more. Fun for anyone wanting to learn the skill of a steady hand.
Rice Plus Multi Cooker from Cuisinart. Not only will this machine cook 6 types of rice to perfection, it will steam and slow cook many other dishes as well. It's designed with a built in "brain", helping make dinner that much easier for you to prepare.
Family 4 Pack of shoes from Crocs. Four members of your family will be sporting Crocs this season, and they have some great styles for winter. (four pairs of shoes up to a $300 value)
Builders of Tomorrow Set from LEGO. This is a great set for your child to get started with. It's a collection of 650 basic bricks in varying colors and sizes, ready for creativity and imagination.
Handstamped Sterling Silver Necklace with Peridot Earrings from The R House. How absolutely beautiful is this handstamped sterling silver necklace, adorned with peridot and pearl jewels? And peridot and sterling silver earrings to match? Gorgeous! The necklace is custom made just for you, stamped with 3 names of those you love! You'll never want to take them off.
Whew! We got through this amazing list of prizes. Your Holiday list is complete. From kids to computers, jewelry to skiing, there seems to be something here for everyone! So come one, come all… it's time to enter!
________________________________________________
Giveaway Entries: For your chance to win 1 out of 10 prizes above, leave one comment on this post by Thursday, December 10th @ midnight. Only Continental US residents may enter. Winners will be chosen from random and announced on Friday morning December 11th. Good Luck!
disclosure: Make and Takes received compensation for this giveaway.