This giveaway is now closed. Thanks to all who entered. The winners are below. I'll email you all to claim your prize.
Klutz: #27 Stefanie, #52 Erin
Magical Santa: #239 Julie M., #45 Julie
Lisa Leonard Designs: #87 Emily KM, #134 Kendra K.
Big Ass Book of Crafts 2: #307 Jessica W.
Pepperidge Farms: #183 Amanda C.
In a Pikle: #288 April V
Go Go SqueeZ: #51 Kathryn N.
Gadanke: #56 Megan J.
Make and Takes for Kids: #107 Lisa C., #91 Andrea D., #138 Nikole
It's a time of giving and I'm happy to have the following fabulous M&T sponsors here today to offer up some amazing goodies to help make your gift giving as simple as possible. There are a lot of prizes and a lot of winners, so make sure to scroll down and check them all out to enter to win. Let the season of giving begin!
First up is Klutz with a gift pack of kid's craft and activity books. I love books from Klutz. They come with all the supplies you need to create all in one handy book. Art, Crafts and Laughs! books are the perfect gift for any child. 2 winners will receive 3 Klutz books, along with a $50 gift certificate:
Stamp Art, Draw the DC Universe, Pom-Pom Monster Salon. But if you're ready to shop now, get 20% off your entire order by shopping Klutz.com and use coupon code KLUTZ4U (Promo cannot be combined with any other offer. Offer expires 12/31/2011). Don't forget to find Klutz on Facebook!
Magical Santa Letters is up next. I'm sure there are loads of children out there who would love a letter from Santa!  These letters come straight from the desk of Mr. Claus and then dropped in the mail to arrive in your mailbox. You can customize the text and make it personalized for your child. Now is the time to get started, just in time for children to enjoy the days leading up to Christmas and Santa coming down the chimney. They are even offering a 10% off code until 12/20: TAKE10. And today, 2 winners will receive a Full Santa Letter Package, ho, ho, ho! Make sure to find Magical Santa Letters on facebook.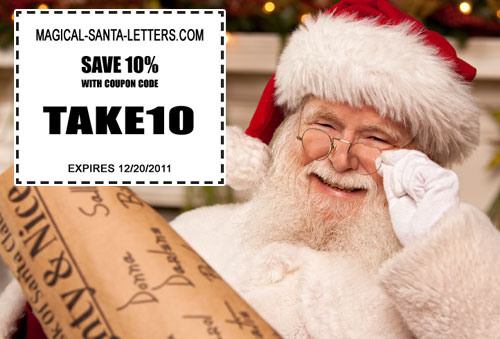 Lisa Leonard Designs is next on our list, with her beautiful stamped jewelry. I'm a huge fan of her necklaces and charms, and now she's got a few gorgeous pieces for the holidays. 2 winners will get one of her custom stocking ornaments, perfect for the tree. Add your family name or make it a personalized gift for a loved one. A perfect little gift for anyone!
Now we've come to fellow crafter Mark Montano and his latest crafting adventure: Big Ass Book of Crafts 2. He's giving away one of these giant awesome books of craft to one winner. Really, there are so many ideas in there, you'll be sewing, gluing, and decorating your home for months with these projects. And never a dull moment as you craft, as there are projects in here to liven things up: projects with wiffle balls, a chapter called "Opps, I arted"!, and all kinds of handmade accessories. Follow Mark on twitter or say hi to him over on facebook.
Next on the list of awesome giveaways is Pepperidge Farms. They've just come out with a new line of goldfish graham crackers of the chocolate chip variety. Although, I might just have to call them cookies instead of crackers. But isn't that the great debate with graham crackers?! Well, how ever you think of them, they are sweet and chocolatey, perfect for that plate of cookies Santa will be looking forward to on Christmas morning. Pepperidge Farms is gifting one winner with 12 packs of these goldfish graham cookies, just in time to stock up for the holidays.
Next we have In a Pikle, a cute name for what you might find yourself in. These all in one carry cases are for EVERYTHING you'd ever need on the go. I mean really, this thing can hold it all, just when you find yourself in a "pikle"! Each case comes with over 20 items that fit conveniently in 4 double sided clear bags for easy retrieval. And not only are they functional, with wipe-off fabric, they are stylish too with darling fabric designs. One winner is going to receive the bag called Sweet Pikle, a darling brown polkadot case for that girl on the go. Through December, they are offering M&T readers 10% off your order with the special code: makeandtakes. Yay! Just what you need to save while you give. I know so many people this cute little case would be perfect for this season.
GoGo SqueeZ is up next. They are giving one winner a GoGo pack of awesome, complete with applesauce packs and their foam squeezy apple toys. My kids love this applesauce, I love this applesauce, as it's so convenient to have in my purse or in the car. And remember the 12 days of GoGo are starting on Monday over at the GoGo SqueeZ facebook page. There will be a new awesome prize every day (excluding weekends) for 12 days! Get in the fun.
Now we're at Gadanke,  These journals are for people who say they never know what to write about, as they have lots of writing prompts to help keep the ball rolling. I've written about them before when I received a cute little journal from Katie at a conference. I love these. Such a cute and simple way to take notes. There are even little pockets to add in the fun memorabilia from an event that was special to you. They are so unique, and would make a perfect stocking stuffer for the holidays. The one below is my personal favorite, as I want to fill in all the fun things we've been doing since we moved to Seattle! And now for the goods: they are giving away a $25 gift certificate to one winner, hooray. Keep your pen handy!
And last but not least… I'm giving away 3 copies of my new book, Make and Takes for Kids! Hooray! I want to start out by thanking all of you for your support and congrats. It's all been such a fun journey. And now I want to gift 3 winners with a copy of their own. There are 50 crafts for kids following the months of the year. There is something to do each month, so all you have to do is open the book once a month and you're set for all year! These make great gifts, perfect for those creative kids of yours, and a great way to get offline and have those one-on-one connections. I also include the learning objectives for each craft, telling you what your child can learn from a specific activity. It's good to know that crafting is not only developing creativity, it's also developing so many other skills, like hand-eye coordinations, math skills, pretend play, and cooperation. So pick up a copy for you child's teacher, a friend, or a loved one.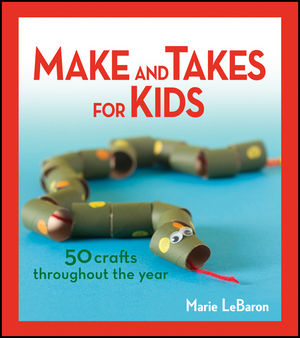 ______________________________________________________________
Giveaway Entries: For your chance to win one of these fabulous holiday prizes, leave a comment on this post by Thursday December 8th @ midnight. I'll announce the winner chosen from random on Friday. Good Luck! Extra Entries – enter a new comment for each extra entry telling what you did: