There are many kinds of elves in the world. There's even an elvish language. Here are a few of the types of elves that I have run across.
Lord of the Rings Elves:
Christmas Elves:
And Elf Yourself Elves: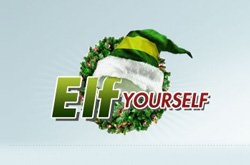 Okay, we gave in and Elfed ourselves. I couldn't resist. I have been loving all the friends and families that have sent us some, so we joined in. I also thought it would be funny to elf our parents too. Our parents are all dancing together with mine on the right and Jordan's on the left. Enjoy!
My family link: http://www.elfyourself.com/?id=1630900783
Our parent's link: http://www.elfyourself.com/?id=1656397153